'Trump lies, democracy dies,' protesters chanted
Herb Boyd | 2/6/2019, 8:50 p.m.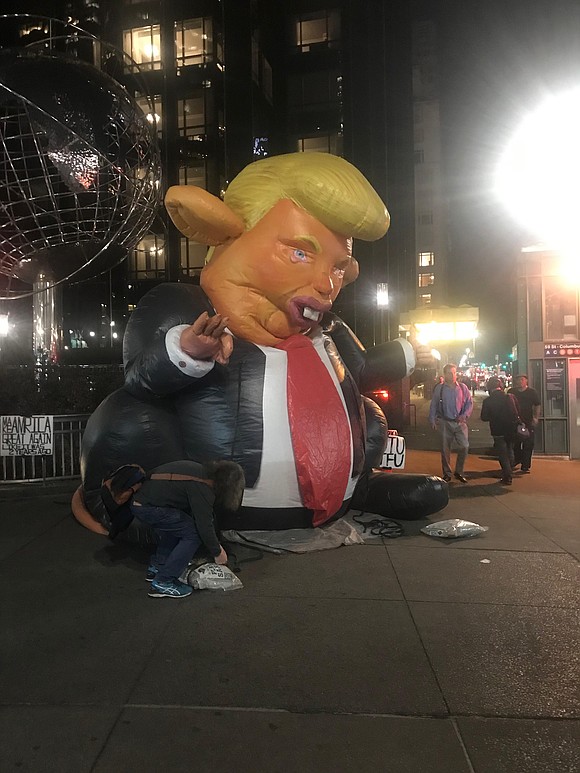 And when Trump praised the large contingent of women in the new congress—131—he received one of the longest and loudest rounds of applause with Speaker Nancy Pelosi, urging on the women.
Stacey Abrams, who ran unsuccessfully in the Georgia gubernatorial race, was selected to deliver the response to Trump's address, and this was the first time an African-American woman had this distinction. And she was very impressive, tacking her comparatively short remarks (Trump went on for nearly an hour and a half) to several of things missing in his speech and countering others.
After recounting the commitment of her parents, Abrams quickly lashed into Trump, blaming him for the recent government shutdown, asserting, "Making livelihoods of our federal workers a pawn for political games is a disgrace. The shutdown was a stunt, engineered by the president of the United States, one that defied every tenet of fairness and abandoned not just our people but our values."
If immigration was the major theme in Trump's speech, voter suppression commanded time in Abrams' response. "Let's be clear," she began. "Voter suppression is real. From making it harder to register and stay on the rolls to moving and closing polling places, to rejecting lawful ballots, we can no longer ignore these threats to democracy. While I acknowledge the results of the 2018 election here in Georgia, I did not and we cannot accept efforts to undermine our right to vote. That's why I started a nonpartisan organization called Fair Fight to advocate for voting rights. This is the next battle for our democracy, one where all eligible citizens can have a say in the vision they want for our country. We must reject the cynicism that says every vote cast to be counted is a power grab. Americans understand that these are the values our brave men and women in uniform and our veterans risk their lives to defend. The foundation of our moral leadership around the globe is free and fair elections, where voters pick their leaders, not where politicians pick their voters."
While she expressed her disappointment in Trump's policies, she said she would not like to see him fail. That conclusion may not be shared by the contingent of demonstrators outside the Trump palaces.