Has Brooklyn hit the wall? Is the bottom falling out of their win column?
Vincent Davis | 2/7/2019, 3:01 p.m.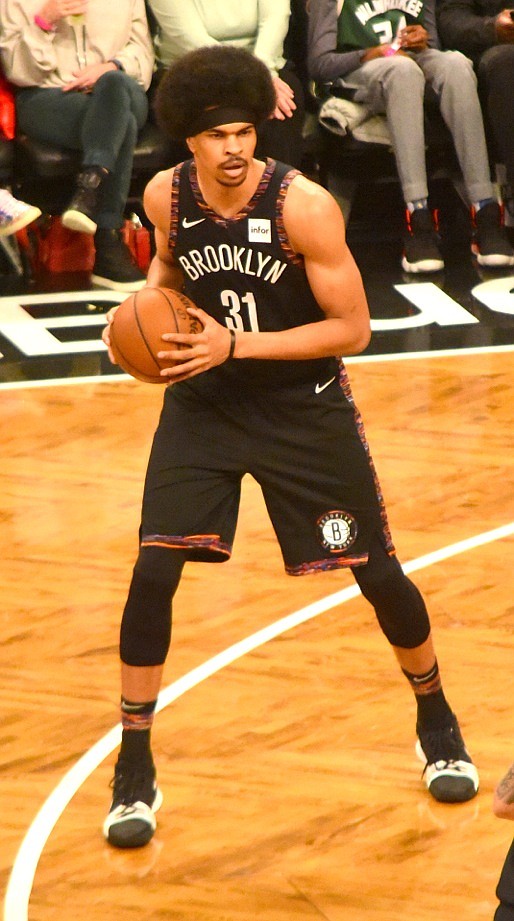 D'Angelo Russell, averaging an impressive career high in points and assists this season has been selected as one the guards to the NBA All-Star team. Turning 23 later this month, it's his first all-star selection as a pro since being drafted four years ago, the second pick of the first round by the Los Angeles Lakers.
Center Jarrett Allen and Rodios Kurocs were selected to the Rising Stars team, an acknowledgement of, a salute to the NBA's most talented rookies and second year players during the All-Star break.
Their team, the Brooklyn Nets have already surpassed the 28-games that they won all of last year, three months earlier than it took last season, 52-games this season compared to 81 last season. And, they've been making smart basketball decisions
that have been paying off. They haven't been stressed like other teams by Thursday's trade deadline.
Brooklyn won 11 out of their 15 games in January. They were 9-and-6 in December. They celebrated a 7 game win streak, 9-out of-10 after what could have been a debilitating 8-game losing streak in late November going into December, moving up from 12th place in the Eastern Conference standings to a prominent 6-seed position behind Milwaukee, Toronto, Boston, Indiana and Philly.
With all of their new found success, the Nets have been able to overcome injuries to key components. CarIs LeVert in mid November, Allen Crabbe (who returned last night, Wednesday against the Denver Nuggets) in December, and most recently Spencer Dinwiddie last month, the end of January. But, has Brooklyn hit the wall? Is the bottom about to fall out? Are injuries catching up to the NBA's new hot team?
"I think we have good strategies in place until we get everybody back healthy," noted Nets' head coach Kenny Atkinson.
"Everybody's tired right around the All-Star break. We just have to recoup."
Brooklyn's production has slipped recently. They're struggling offensively, losing on the road in the last week to the San Antonio Spurs 117-114 and the Orlando Magic 102-89, and getting blown out at home, 113-94 by 6-11 positionless player Giannis Antetokounmpo and the Milwaukee Bucks on Monday. Antetokounmpo was the show that night, one assist short of a triple double; 30 points, 15 rebounds and 9 assists.
"I think we are going through a tough stretch," acknowledges Atkinson. "We obviously have some guys out, and some guys back and are mixing and matching," he noted. The bottom line from Atkinson? "It's tough when you're not making shots."
For Russell it's about greater defense which leads to turnovers, more points for Brooklyn in transition. "I think we've got to turn it up to another level. Be that physical, aggressive team."
From the outside looking in, Milwaukee's head coach Mike Budenholzer understands the Net's main issue.
"Brooklyn's really banged up, so it's almost not fair. But for us on the end of a road trip, it's a good win."
To Brooklyn's credit, now 29-and-27 overall, 17-and-12 at home with their 135-130 win over Denver, they rebounded strongly from the three recent losses by defeating a top seeded Western Conference team, a 2-seed with rejuvenated scoring. Dropping 19 threes, the Nets also logged 36-assists, a season high.
"We struggled to shoot the ball," noted Nets' guard Joe Harris about Monday night's home loss to the Bucks.
"It feels good once you start seeing them go in, then shooting is contagious," said Harris. "Once one guy gets it rolling, it seems like everybody else is able to find a rhythm."