Havana Jazz Festival 2019 in Review
Ron Scott | 2/7/2019, 4:04 p.m.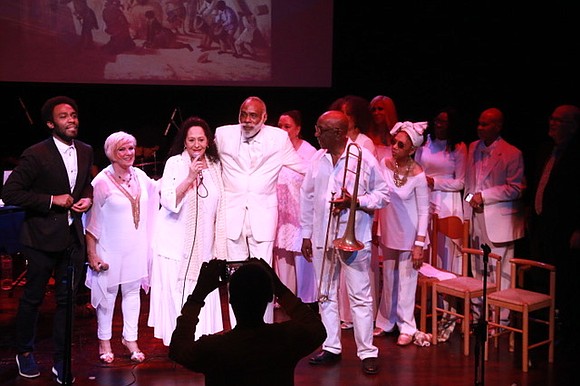 The women of Havana, Cuba move with a lyrical flow as they walk down those hot busy streets with a destination in mind but no neurotic effort to get there. The Cuban men are in a macho groove standing erect moving like individual brass instruments to a hip mambo swing.
Their trombone vocals harmonically solo out, "Where you from amigo, New York?" Yes, we say: New York all day. Their melodic response, "Dónde (where)?" Harlem and they smile and respond, "The Apollo I have been there." On that note we shake hands and smile as my new brother shares his Harlem experience.
We are brothers and sisters free in this music; mambo, mambo there are no real language barriers. We recognize Benny Moré, Cándido, Machito, Cecilia Cruz, Chucho Valdés and Dizzy Gillespie—our African roots birthed the seeds of Cuba to the United States.
The music is more colorful than the people's painted houses, packing more fuel than the old classic necessity cars still rolling since the 1950s. The music is our language, mambo, mambo, salsa baby: walls exist only for fools misguided by the stupidity of separatism.
The overall theme of the 34th Internacional Festival Jazz Plaza (Jan. 14-20) danced in a rhythmic montage of the African diaspora from Afro Cuban jazz to deep melodic percussions that gave way to subconscious dance movements from salsa to cha-cha, rumba, mambo and sun dance. Chapman Roberts Broadway Jazz Festival USA (a 20-piece ensemble) bought the soul sounds of African-American R&B to the blues, gospel, soul and the Cuban roots of Cubana. With over 13 venues throughout Havana there was so much music to hear, new artists to see and mounds of musical expeditions.
The festival's inauguration at the Teatro Nacional was a combination of Afro Jazz and Timba Funk featuring the festival's founder, trumpeter and vocalist Bobby Carcasses with Cuban saxophonist and composer Yosvany Terry (who resides in New York), the well-versed American trombonist Dick Griffin, and Tony Succar y su Proyecio Unity.
At a smaller venue an early set featured trumpeter/composer Alberto Lescay & Formas. The group swings in jazz with fusion overtones that rock with moments of hip-hop verse.
Teatro Mella, a noted Havana music complex, presented, Three Generations of Valdes-O'Farrill featuring trumpeter and composer Adam O'Farrill and pianist Leyanis and drummer Jessie Valdes (the children of Chucho Valdes). The pianist, composer, arranger and guest host Arturo O'Farrill stated the concert was about Afro Cuban music and the roots of Africa that united us as family.
Leyanis is a key pianist in Cuba. Her playing in the midst of various configurations was deeply percussive and melodic on up-tempo tunes and serene soft crescendos tinged with classical musings on ballads backed with an all-female string ensemble. Brother Jessie comes out of a more hypnotic drum persistence that bellows the roots of Afro Cuba-ism, those melodic dance rhythms up and down the sunset. O'Farrill played solo, in a quintet setting with son Adam and in a large ensemble boosting a big brass sound that ignited fiery Latino rhythms. Adam later in quartet mode swung on and off the shores of Cuba.