A life well lived: Herbert Eugene Tatum Jr. passes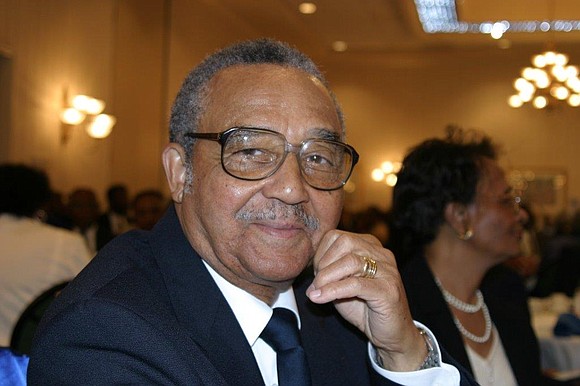 Herbert Eugene Tatum Jr. was born May 28, 1928, in the Snow Hill Community, Sampson County, N.C., to the late Mittie Spell Tatum and Eugene Milton Tatum. He departed his earthly life on Sunday, Jan. 27, 2019, at home in the company of family and friends. He was preceded in death by his loving wife of 62 years, Gertie Blackwell Tatum.
He attended the public schools of Durham, North Carolina, graduating from Hillside High School in the summer of 1944. He continued on to North Carolina College for Negroes his freshman year and matriculated to Fayetteville State Teachers College, graduating with a B.S. degree in Elementary Education in 1948. A Masters' degree in supervision and administration was completed at North Carolina Central University in 1958. Continuing education for principal leadership was earned in 1964 at the University of North Carolina, Chapel Hill.
Herbert's initial year of teaching was at the Henderson Institute, Henderson, N.C., from 1948-49. Teaching in Durham City Schools from 1950-51, he joined and served our country in the United States Armed Forces. After his military service and honorary discharge in 1953, he returned to Durham and started teaching at Whitted Elementary School and became an assistant principal in 1964. Transferring to Crest Street Elementary, North Durham Elementary School, he was principal for two years. He moved to Shepherd Junior High School where he worked as a teacher and assistant principal for two years, then became principal for 12 years. Herbert was touted as a present and respected administrator. After completing administrative leadership at Shepherd Junior High School, he moved to Holton Middle School and served another four and a half years, retiring in 1990. Never a man with an idle mind or hands, Herbert assumed the role as courier in his son's law practice for more than 25 years where he was highly regarded by everyone.
His educational affiliations include the National Association of Educators, the North Carolina Association of Educators, Durham City Association of Educators, North Carolina Principals Association, Durham City Principals Association and the North Carolina Middle/Junior High School Association. Herbert was an avid proponent of education whether in the classroom or promoting learners of any age. His educational legacy as teacher and principal continues to live in the number of students, teachers and principals he mentored and shared times with in the classroom experience.
Herbert was very active in many organizations, including Doric Lodge 28; C Hudson Chapter 63; Durham Consistory 218; John Avery Boys and Girls Club, Inc., where he served as president of the board of directors and interim executive director twice during his time with the club; United Way of Durham, Inc.; Hayti Development Corporation; Scarborough Nursery Board; and James E. Shepherd Sertoma Club, Inc., where he served as secretary and treasurer.
As a member of the White Rock Baptist Church, he served as the church clerk, member of the Trustee Board, member of the Deacon Board and Sunday school teacher for many years. In 1993, Herbert shared in the organization and was a founding member of Beacon Light Missionary Baptist Church. Faithful and active, he served in many capacities—Sunday school teacher, site committee, trustee, deacon, Finance Committee member—and continued to perform in any capacity needed until no longer able.
Herbert is survived by his sister, Kale Sichens (Mary Yvonne Tatum) in Atlanta, Georgia; two sons, Michael Todd Tatum (Melonie) in Texas City, Texas, and Herbert Eugene Tatum III (Jacqueline) in Chapel Hill, N.C.; three grandchildren, Michael Karee Tatum, Alyssa Jenee Tatum and Herbert Eugene Tatum IV; three great grandchildren, Aubrey Rose Tatum, Amari Zion Jefferson-Tatum and Khari Khalil Jefferson-Tatum, and many cherished relatives and friends.