A stunning 'Suite for Malcolm X' at City College
Herb Boyd | 2/7/2019, 1:11 p.m.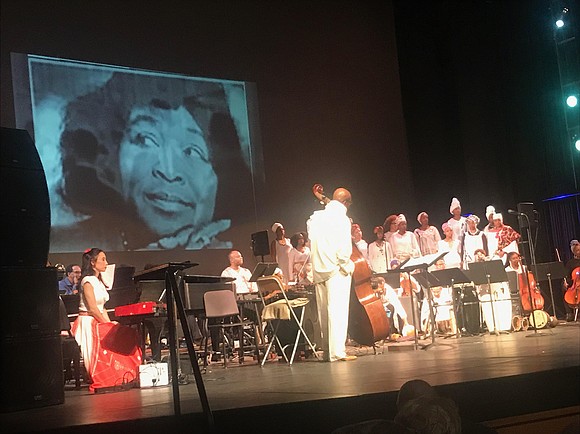 During his brief but iconic stay with us, Malcolm X (El-Malik El-Shabazz) was an always evolving political leader and thinker. His mercurial rise from incarceration to an incandescent spokesperson for the Nation of Islam has been chronicled in books, on stage, film and in music. The latest iteration of his legacy was captured Friday evening at Aaron Davis Hall where Rachiim Ausar-Sahu's "Suite for Malcolm X" featured a versatile number of performers embodying and matching Malcolm's majesty. No matter what section of the ensemble, whether the voices, horns, strings, keyboards, percussion or actors, splendid approximations of Malcolm's life and legacy emerged. There were several moments when the music coincided perfectly with the photographs flashing repeatedly in the background. Once when Malcolm was seen peering from the window with a rifle, which wasn't shown, the music took on an ominous quality with the string section, including a solo from the notable cellist Akua Dixon.

All of the arias and spoken word segments exhibited power and intimacy, and Tulivu Donna Cumberbatch was particularly expressive during her performance. It was long enough to share the moment with visuals of Dr. Betty Shabazz in a thoughtful gaze. Images of Malcolm with his daughters were touchingly enhanced by Eiko Wonsey, Brandon McCune and Bryan Carrot on the keyboards.
The first set recalled an emerging Malcolm, and "East Brooklyn Sunrise" was indicative of this with the voices alternating between soft tones of daybreak and a gradual awakening. "It was such a different thing to see a bass player sitting in chair playing and then leading the performance," said Doris Prester, one of the students in attendance. She was referring to Ausar-Sahu, who also took a turn at the piano during the second set, which was more robust with the horn section sparked by Duane Eubanks and Vincent Chancey, on trumpet and French horn, respectively.
Among the percussionists were Neil and Ayanda Clarke, Warren Smith, George Gray Jr., Mark Johnson and Ron McBee. It's hard to single out any one of them because each had a way of blending with Ausar-Sahu's bass lines that at times sounded like a mbira. The recitations, too, were as precisely delivered as they were in keeping with Malcolm's integrity, and overall as the leader told the appreciative audience it was a "journey of renewal…a restorative homegoing."
"I loved the way the opening procession and the libations blended with the choir and set a tone for such a special occasion," said Vanessa O'Neil, another City College student who took advantage of the concert on her campus. The City College Center for the Arts with this presentation exceeded its ambitious aims of a calendar of professional performances and a musically perfect way to launch Black History Month.