Much more than dolls
Dominique Carson | 2/14/2019, 10:45 a.m.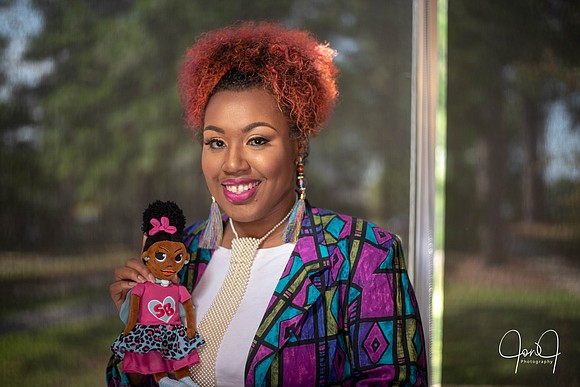 Growing up, little girls tend to play with dolls in their childhood. The doll is designed in human form to connect with children, particularly young girls. It was also introduced to young girls to promote their femininity and/or feminine traits.
But not too many manufacturers or toy companies create a pep-talking doll that promotes self-esteem, endurance, confidence and inner strength.
TiffanyJ, a national competition winner on BET's reality show "Grand Hustle" and rapper T.I's "Pitch Your Hustle" contest, stepped outside of her comfort zone and created the 10-year-old Super Beauty Pep Talker doll. It is a doll designed to combat low self-esteem and boost girls' confidence.
The Super Beauty Pep Talker doll says over 20 phrases and prompts girls to say positive things about themselves. The phrase, "You are super dope, don't let anyone tell you different," is a popular saying from the doll.
"As a child, I was very shy and to myself but I was very lonely inside. Learning to love myself and have confidence within myself was a learning experience. I used to bottle up all of my emotions when I had suicidal thoughts at an early age," said TiffanyJ. Her family believed she was just quiet and timid but it was actually a loud cry for help—a need to be understood, to be loved. She knows that most people laugh or smile when they feel like crying or when they really want to disappear. Many people suffer from depression or contemplate suicide. But TiffanyJ turned her biggest hurdles into inspiration by creating Super Beauty for young girls. The doll is to be used as a guide for them to cope with the emotional and mental distresses that we encounter in the world such as bullying, depression, anxiety or loss. TiffanyJ didn't want one more girl to become a statistic for psychological or sociological studies.
"The doll was created so other girls wouldn't have the tragedies like I did. I wanted them to express themselves and deal with their issues in another way. I want them to know that it's okay not to be okay and that there are people you can talk to about your issues," said TiffanyJ. "They can also express themselves through art as a way to release the thoughts in their minds. For me, it was always music. Jimi Hendrix said, 'Music is a safe high.' And it's true. Music takes you away from life and reality for a brief moment and that's what music did for me."
In addition to the Super Beauty doll, TiffanyJ created other projects that will help girls with their journey to self-discovery and self-love. She launched the Super Beauty Mascot; published her first book in the Super Beauty children's book series entitled, "Super Beauty Saves the Day;" and she is a founder of the Beauty, You Are Boot Camp organization. She also makes special appearances at schools, churches, camps, and pageants to discuss her love and passion for the Super Beauty brand. During her presentations, TiffanyJ emphasizes the importance of artistic expression and the embracing of your own uniqueness.
"I truly have a passion for children, especially girls and the positive thoughts they should have for themselves. Super Beauty will save the day," said TiffanyJ.
TiffanyJ also has other projects in the works for the Super Beauty brand such as a digital cartoon movie, bedroom appliances, coloring books and a second book, entitled "Super Beauty's ABCs for the CULTURE." She also plans to create a male version of her brand for the boys entitled, Handsome Hero, and it will have the same concept as Super Beauty.
"I will continue to come up with avenues or projects for the Super Beauty doll that can impact children all over the world. This is my calling and it started with me making a change from a negative time in my life," said TiffanyJ. "And now, I want to take young girls to another level where they can recognize their self-worth through Super Beauty."