Harlem celebrates Belafonte's birthday March 1 at Aaron Davis Hall
NADINE MATTHEWS | 2/21/2019, 3:18 p.m.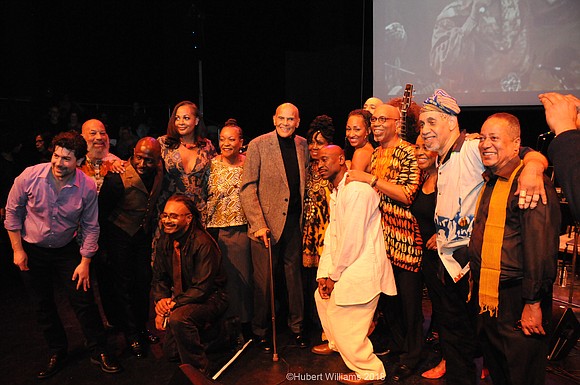 Singer Ty Stephens was born in Philadelphia but came to New York circa 1978 to, he says, "Pursue a career in theater and dance." Stephens loved dance, attending the famous Ailey School and appearing in the Broadway classic "Sophisticated Ladies." However, he soon pivoted to a focus on singing. "I transitioned to singing from dancing when I did 'Sophisticated Ladies' with Gregory Hines, Judith Jameson and Phyllis Hyman," he recalls. "It was a dream and really one of the best experiences I've ever had." Of working with dance legend Judith Jamison he says, "She was one of the people always looked up to by me and my teachers. To end up working with her was an unfathomable dream!" More recently Stephens earned a 2018 AUDELCO Award for his work in the off-Broadway play "On Kentucky Avenue," for Lead Actor in a Musical.
Singing, Stephens says, was what he decided to focus more on specifically, because it was something he had always loved even though he didn't go to school for it like he had with dance. He soon created his own band and his own music, eventually working with Harry Belafonte. "I had trained as a dancer and not a singer but listened to people like Donny Hathaway and Stevie Wonder on the radio and I bought records intensely. I learned from the masters directly as if they were my teachers."
Stephens is just one of a number of former vocalists who worked for many years with iconic singer and actor Harry Belafonte. He, along with Branice McKenzie and under the direction of Richard Cummings Jr., will be celebrating Belafonte's 92nd birthday on March 1 with a tribute concert at City College's Aaron Davis Hall. Called Turn the World Around: The Music and Legacy of Harry Belafonte, the event will feature renditions of some of Belafonte's best-known songs as well as messages and personal anecdotes of life with the legendary entertainer from alumni members and other notables. A reception, open to concert ticket holders, will be held following the concert.
Stephen remembers that his family was even more excited about him working with Belafonte than he was. "It's not every day you get to go home and tell Mom you're gonna be working with Harry Belafonte and her jaws drop!" Because Belafonte worked a lot in Atlantic City which is in close proximity to where Stephens' family lived, they would often come to see him perform. "To have my mom and my dad meet Harry Belafonte and have that wonderful respect given back to them from him about me, it's just another one of those experiences that have no description except to say it was truly an honor."
Belafonte, like many of his contemporaries, wasn't just a performer but was also a social justice activist. It's one of the reasons he holds a special place in Stephens' heart. "When he came through in the' 50s, no one was doing what he was doing and to the magnitude he was doing it," Stephens explains. "He became a superstar and that didn't happen to Black people then. He sang songs that had deeper substance and was part of the Civil Rights Movement and sang about justice. He stood alongside Dr. King. All of that made working with him special."