Nari Ward exhibit puts objects in dialogue with history
NADINE MATTHEWS | 2/21/2019, 3:11 p.m.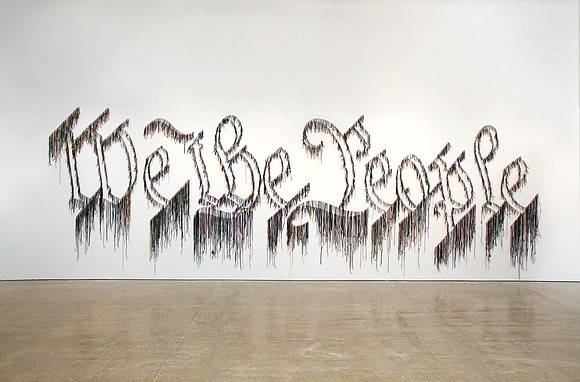 It's more poignant than ever that the New Museum's extraordinary exhibition of sculptor Nari Ward's work, which runs through May 26 of this year, is called "We the People." The artist himself, it has been reported, wanted it to be called "Hunger Cradle" (1996) after one of his signature sprawling pieces of sculpture made from found objects. That piece is on the second floor of the exhibition, which is being shown on three floors in total. "Nari Ward: We the People," per the museum's press release, "...will feature over 30 sculptures, paintings, videos and large-scale installations from throughout Ward's twenty-five-year career, highlighting his status as one of the most important and influential sculptors working today."
"We the People" is on the third floor. It occupies an otherwise stark white wall. Multi colored shoelaces spill out of specially drilled holes that, because of their strategic placement, spell out in familiar calligraphic lettering the first three words of the United States Constitution. That it is the center and title of this exhibition at a time when the United States' vision of itself as a beautiful mosaic has been rocked to its core, is deeply affecting for the viewer. For over two years, social and political discourse has been overtaken by the far-right's manifest xenophobia a wall to keep out Central American asylum seekers. Also, for American society to remain as monochromatically white as the wall from which the laces in this installation emerge.
Ward didn't create the piece in response to the rhetoric of Donald Trump or his right-wing cohorts. He actually created it in 2011; a more hopeful time in the country's history when America was being governed by its first African-descended president. The shoelaces were meant to be a nod to urban America and Harlem in particular, where sneakers slung over power lines is a ubiquitous sight. It isn't lost on the artist however, the broadening of the piece's symbolism at this time in history. Says Ward via email, "When I first made this work I could never have anticipated that my attempt to both humanize and inspire conversation about what this text means would be so urgent to consider each of our roles in defining the future of America."
Ward was born in Jamaica, but has been a resident of Harlem for many years, where he both lives and works at a former firehouse on 141st Street. His 1995 piece "Super Stud Salt Table" is the only work in the exhibition that overtly evokes his West Indian heritage with its use of plantains, pieces of fish and salt laid out to look like sand of the beach. The work also surprisingly carries a slight aroma of the sea.
Most of Ward's works evoke the pre-gentrified Harlem of the '70s, '80s and '90s. The materials he uses are mostly taken directly from the Harlem of that time, from discarded carpets, linoleum, grocery bags, children's clothing, soda bottles, strollers, old radiators and printers, tires, etc. The very fabric of working class life IS central in Ward's work.