Public Advocate candidates answer the tough questions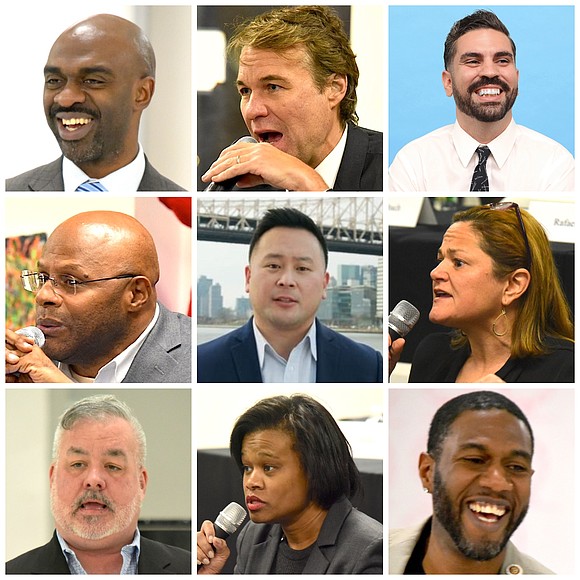 New Yorkers have 17 candidates to choose from in next week's special election for public advocate. The highly sought after seat, vacated by Letitia James after her election to serve as the state attorney general, is often a clear shot for anyone wanting to be the city's next mayor.
The AmNews reached out to all of the candidates with questions on several topics such as NYCHA, the MTA and police-community relations. What follows are the verbatim responses of all those who submitted answers by deadline.

Michael Blake
1.) As assemblyman, I helped win $250 million in additional funding for NYCHA. With 21 percent of public housing in my assembly district, which is also a gentrifying district, I am deeply committed to affordable housing and fighting gentrification. I supported the recent federal court decision that rejected the city's proposed settlement of $2.2 billion for NYCHA repairs because it did not go nearly far enough to provide desperately-needed repairs and greater transparency across the agency. As public advocate, I will closely monitor the expansion of the Permanent Affordability Commitment Pact, which will allow nonprofits or private developers to take over the maintenance and operation of public housing buildings through RAD. I will also call for strict monitoring of developers to ensure that they are upholding these tenants' rights and will also fight for greater transparency of NYCHA work orders, progress, and completion data so that we can celebrate progress but also hold NYCHA accountable where residents are waiting too long for repairs. Finally, our campaign is proud to have the endorsement of Danny Barber, president of the Citywide Council of Presidents, whose expertise and experience I will incorporate in my effort to create a resident advisory committee to better identify systemic problems across NYCHA and its properties.
2.) It is very disappointing that Amazon is canceling their proposed plan to move to Long Island City. A collaborative deal could have brought jobs and justice to New Yorkers. It is a shame that Amazon walked away from the deal and a shame we don't have more of a strategy as a city around what to do now. Our residents need good jobs and higher wages. Our city needs leadership with a plan for workforce development, including focused on tech sector and related jobs, and greater investments in infrastructure and transportation in order to make deals with companies like Amazon work for New Yorkers. If the deal ensured economic benefits for low-income New Yorkers, Minority/Women Business Enterprises, and labor protections, it could have been an economic game-changer for the city. It is very telling that Amazon would announce its withdrawal when challenged with community and stakeholder accountability. A better alternative would have been to open a dialogue with local leaders, listen to the concerns of residents, and adapt its proposed plan to assuage those concerns.
3.) Transportation is about much more than just getting from point A to point B. It's about getting to your job interview on time and getting home in time to see your family. We need to make it a lot easier for New Yorkers to get around. As public advocate, I will fight to give the public advocate a permanent seat on the MTA board to advocate for the needs of New Yorkers, pursue immediate fixes to train and bus delays, reject unnecessary and costly construction proposals, and identify underserved areas for transit investment. I will also work to make Fair Fares available as single rides because they should be available to all New Yorkers who need them, not just those who can afford weekly or monthly passes. About 300,000 New Yorkers who struggle to pay rent and buy food can't afford these passes. Instead, they pay as they go and are forced to spend too much of their income to get to work. I will fight for transit equity and work to make it easier and safer for people, especially women, to get where they need to go. We need to make it easier for our seniors to get around and we need to make our bus system more accommodating because more than 40 percent of our seniors live in areas that don't have enough public transportation and only 27 percent of bus stops have shelters and benches. I will push for the city to build more benches and shelters at stops and will also be sure the needs of those with disabilities are addressed. A disability is not a barrier to work—ignoring accessibility is. People with disabilities want to work but lack of accessible transportation is the No. 1 barrier to employment and we should refuse to tolerate the high rate of unemployment among people with disabilities.