March 2019 Dance Calendar
CHARMAINE PATRICIA WARREN | 2/28/2019, 3:33 p.m.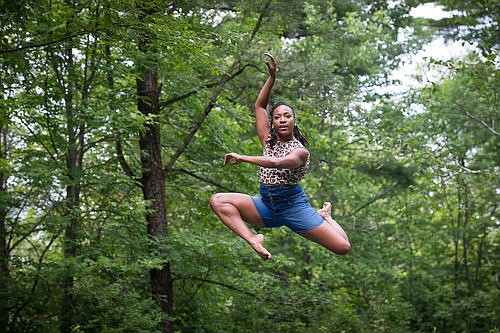 The month of March is dominated by a full month of dance (March 1–30) at BAAD! The Bronx Academy of Arts & Dance, with their BAAD! Ass Women Festival. For the 19th annual Festival, BAAD! again celebrates "…the empowerment of women through art, culture and performance." This year's lineup includes: (March 9) "Flamenco Tablao" curated by Bronx-based dancer Nélida Tirado, offering a journey to Spain by way of the old "Café Cantantes" where spectators enjoyed drinks and a show; (March 22) Alicia Bauman-Morales in "Huracán: Storm Medicine," "… a personal dance story, living altar and town hall about destruction, translation, and the transformative power of storms;" (March 23) Sole Sisters The BAAD! Ass Women dance concert with eight choreographers from the Bronx and beyond including Amber Funk Barton, Beatrice Capote, Deborah Conton, Mai Lê Hô and Tamara Williams; and ​(March 29–30) Davalois Fearon Dance in "For C.J.," "… dedicated to artistic director Davalois Fearon's nephew C.J., who was the victim of a fatal asthma attack in 2017," notes the release. Though dominated by dance, there are also theater and film offerings. For more information visit www.baadbronx.org.
STILL RUNNING:
Through March 3: Under artistic direction of Dwight Rhoden and Desmond Richardson, Complexions Contemporary Ballet celebrates its 25th anniversary season with three programs over two weeks. The programs are: Program A—the NYC premiere of "BACH 25" and "Star Dust" (2016); Program B—the world premiere of "Woke" and "From Then To Now;" and Program C—a matinee program, with "BACH 25" and "From Then To Now." For more information visit www.joyce.org.
Feb. 28—March 2: Angie Pittman shares an evening with Johnnie Cruise Mercer/TheREDprojectNYC at Danspace Project. For her Danspace commission, Pittman will present "Came Up in a Lonely Castle" and Cruise Mercer/TheREDprojectNYC, "process memoir 4: The word, the spirit, and Little Rock." For more information visit www.danspaceproject.org.
ALSO THIS MONTH:
March 1: For the studio showing, as part of a creative residency, Jaamil Olawale Kosoko performs "Chameleon (The Chelsea Installments)" at New York Live Arts' in the "Live Feed" commissioning program. For more information visit
www.newyorklivearts.org
March 1: In Connecticut, at Quick Center for the Arts at Fairfield University, the flamenco dancer Farruquito, described as the "heir to one of the most renowned Gypsy flamenco dynasties in Spain," will present an evening of cante (singing), toque (guitar), baile (dance), jaleo (vocalizations), palmas (hand clapping), and pitos (snapping) all requisite parts of the form. For more information visit www.quickcenter.com
March 2: For one-night-only, Rennie Harris/Puremovement will present, "Lifted," Harris' latest, evening-length work, set to house and gospel music, at NJPAC. For more information visit www.njpac.org
March 7—10: Flamenco dancer Sara Baras returns to City Center with her company Ballet Flamenco Sara Baras in her latest work, "Shadows" combining both traditional and modern flamenco with her trademark take on "La Farruca"—traditionally danced by male flamenco dancers. For more information visit
www.nycitycenter.org
March 9–31: "Noche Flamenca," under artistic director Martín Santangelo and dancer Soledad Barrio, comes to the Connelly Theater with "Entre Tú y Yo (Between You and Me)," an evening-length program of duets, solos and ensemble works exploring "the constraints imposed and the possibilities afforded by human relationships," according to the release. For more information visit www.soledadbarrioandnocheflamenca.com