There's so much to love in Montréal
SHERYL NANCE-NASH | 2/28/2019, 3:18 p.m.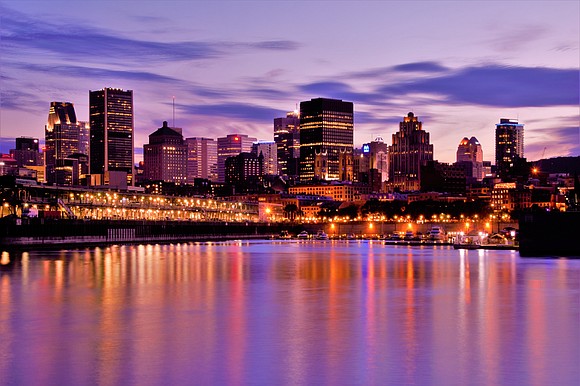 Montréal is known for its jazz festival. But, there's much more to Montréal, especially now as the city is in the midst of a yearlong, 375th birthday celebration. Millions of dollars were pumped into the city for projects in preparation for the festivities and visitors. All year there will be special events like the stunning show "Aura," an explosive laser light, multimedia show accompanied by live organ music in the iconic Notre-Dame basilica. Be ready to take a journey you'll never forget. Another bonus, the exchange rate between the U.S. and Canadian dollar gives you an immediate 30 percent discount.
This island city is home to more than 1.5 million people. Thirty-three percent of Montréalers are immigrants, with the recent influx coming mainly from Algeria, Morocco, Haiti, France and China. That diversity is reflected in the more than 6,000 restaurants, which is more per capita than any other place in North America. Feast on Indonesian, Iranian, Lebanese, Portuguese, Tibetan, Thai, Vietnamese, Korean, vegan, Italian, Mexican and of course French cuisine. With four major universities, Montréal is fueled by the energy of students and intelligentsia.
There's plenty of action downtown—a theater district, symphony hall, shops, restaurants, museums and historic, gothic churches. The cultural epic center is the Montréal Museum of Fine Arts in downtown. With concerts, events and shows like the recent Marc Chagall exhibition, it is a must-see. Visitors also love Old Montréal with its port. The cobblestone streets and architecture are reminiscent of Europe. You'll find treasures like the Notre-Dame basilica built in the 1600s, and Pointe-a-Calliere, the Montréal Museum of Archaeology and History, a national historic site and the birthplace of Montréal. There are art galleries, boutiques, plenty of places to eat and drink. BEVO Bar + Pizzeria is a favorite, with its traditional Italian cuisine, wood-fired pizza and cocktails. Venice is the spot for a healthy lunch, with poke, kale and spinach Caesar salads and more. Pop into L'Assommoir Bar Cocktails & Restaurant to quench your thirst with a drink from the several pages-long drink menu.
As much as you want to hang out downtown and in Old Montreal, perhaps one of the biggest surprises about Montréal is its many vibrant neighborhoods. Each is unique and full of personality. Mile-End with its bookstores, cafes and murals reminds you of hip Williamsburg in Brooklyn. Plateau Mont-Royal is bohemian—colorful houses with outdoor staircases, vintage shops, boutiques, and great finds like cool $5 earrings, scarves and more. You won't go hungry with so many restaurants and coffee shops there. For an artistic vibe, go to Mont-Royal, which is home to many artists. Mont-Royal park is 400 acres of park and 600 acres of cemetery. In the winter, it's a prime locale for ice-skating, and in summer, cycling and jogging. The Outremont neighborhood is all about the mega mansions, with parks and upscale shopping. You really don't need to rent a car when you visit Montreal. You can go just about everywhere on the Metro, by taxi or rent a bike.