Jazz Notes: 'Brown Butterfly,' Roy Hargrove Musical Celebration
Ron Scott | 1/3/2019, 5:04 p.m.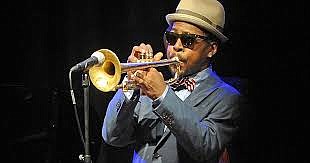 The deed, the project, the incredible body of music by the trombonist, composer and arranger Craig Harris is complete. Yes, a musical birth has taken place. Harris's tribute to the greatest, Muhammed Ali, "Brown Butterfly," will premiere on Manhattan's Lower East Side at NuBlu (151 Avenue C) at 7 p.m. Jan. 6.
"I'm telling the story about one of my greatest heroes," said Harris. "I'm celebrating the physical contributions of this sound architect. Muhammad Ali was a composer."
"Brown Butterfly" is Harris' tribute to the magical attributes that have sustained African-Americans for more than 400 years—weightlessness, grace, speed— an ability to walk in space. This double CD collection is a tribute to the genius of Ali and so much more. 
"Ali was unorthodox," said Harris. "He did it all wrong. Moving backward and throwing punches. No fighter ever moved backward throwing punches. People told him, 'You're going to get knocked out.' That's what really drew me to him: fighting with his hands down, his whole style, his innovation as a heavyweight boxer."
In preparation for this recording, Harris studied many aspects of Ali's life, focusing on his personal and religious beliefs. He took fight films apart, watching them in slow motion and fast motion. Craig assembled footage of several of Ali fights and watched them without the sound. He wanted to experience the breath-taking magic of Ali's dance.
"He was like music in motion," said Harris.
As he watched the fight films, he jotted down rhythms that corresponded with Ali's feints, jabs and shuffles. With the rhythmic patterns on paper, he added melody and harmony, and then he gave the charts to his band. During rehearsals, he had the musicians look at the film and allowed them to improvise their own interpretation of the ballet they were watching. 
"His physical gestures are so musical," said Harris. "He's just not boxing, he's an extension of the African-American continuum, which comes out of Africa."
As a musician and composer Harris has done for Ali what Miles Davis did for the first heavyweight Black champion of the world, Jack Johnson, with his album entitled "Jack Johnson" (CBS Records, 1971).  
It should come as no surprise that Harris felt a responsibility to pay tribute to Ali, a fearless Black man, who, like Jack Johnson, refused to bend to the terms of white America. They both transcended boxing and became part of the culture and the history of racism in America.
Harris's "Brown Butterfly" CD arrives 38 years after Miles' "Jack Johnson." Ali became Heavyweight Champion of the World in 1964 at the age of 22; Johnson became Heavyweight Champion of the World in 1910 at the age of 52. However, he became Colored Heavyweight Champion of the World in 1903. Because to racism, a Black man could not fight a white man for his title.
Ali and Johnson were revolutionists, warriors who refused to bend when confronted with white laws that only worked against them. In their pursuit for justice, they became the most significant celebrated sports figures in American history and two of the greatest boxers of all time.