Jazz Notes: 'Brown Butterfly,' Roy Hargrove Musical Celebration
Ron Scott | 1/3/2019, 5:04 p.m.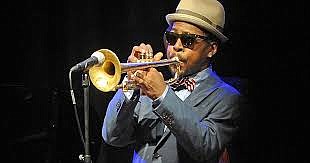 "Brown Butterfly" is the reflective journey that every Black person living in the United States and beyond must make if he or she is to be truly free. A journey through fear and through brainwashing and finally embracing the power and majesty of Blackness.
Harris, 63, took that journey. As a young boy growing up on Long Island, he was afraid of Ali. Many Blacks were.
"He scared me at first," said Harris, "I'd never seen an African-American talk that much shit." Ali took the heavyweight title from Sonny Liston in a fight that  remains one of the  great upsets in boxing history. More than a title changed hands. Ali changed boxing the way Charlie Parker and John Coltrane changed music.  
"Charlie Parker took inspiration from Lester Young's rhythmic innovations and added notes and velocity," said Harris. "All Ali did was take Sugar Ray Robinson's style and put it on his 6-foot, 3-inch 225-pound frame. That is the essence of innovation and the African-American creative mystique. Our goal is to take something and do something with it. That is what we do. It's the hoodoo that we do, with that past present and future view."
In 1988, Harris began writing compositions that went outside the so-called straight jazz world. He took his music to the streets with hard-bop spoken words, swinging in Harlem's experienced improvisational afroisms and always some funk for good measure. He reconstructed his path and started incorporating other disciplines into his music and reaching out to younger artists. He was combining various artistic forms to attract a wider audience without compromising the music.  
"Float like a butterfly sting like a bee" is the heart of "Brown Butterfly." It captures the spirit of Ali in rhythmic form, the improvisation of life from his rope-a-dope to the Ali shuffle to rumble young man rumble, being a Black man in America.
Tickets can be purchased online or at the door. Visit http://www.nublu.net/program.  
The trumpeter, composer and arranger Roy Hargrove died Nov. 2, 2018. The jazz community, many fans and family were heartbroken to see such a genius talent die at the early age of 49. Hargrove had yet to spread his wings that had the span of an enormous eagle just taking flight.
Since his untimely departure, there have been tributes in his honor in such cities as Los Angeles that featured his friend and collaborator Erykah Badu. Most recently, the band that he performed with on an annual basis the week before Christmas at Manhattan's Jazz Gallery went on to perform in his honor. The musicians included pianist Orrin Evans, alto saxophonist Jaleel Shaw, tenor saxophonist Tivon Pennicott, bassist Eric Revis, drummer Nasheet Waits and special guests saxophonist JD Allen, trumpeter Giveton Gellin and vocalist Gretchen Parlato.
Jan. 8, there will be a Roy Hargrove Musical Celebration presented at Jazz at Lincoln Center in the Rose Theater. The celebration was originally scheduled for St. John the Divine, but the venue was changed to Jazz at Lincoln Center.
The celebration will be open to the public and the general seating area will be available on a first come, first served basis. Additional seating will be available for simulcast viewing in Jazz at Lincoln Center's The Appel Room, the Mica and Ahmet Ertegun Atrium and the Ertegun Jazz Hall of Fame. Doors will open at 6:30 p.m., and the event will start promptly at 7 p.m.
"This celebration will bring together a bunch of diverse musicians, who loved Roy, an opportunity to share the music show their respect for what he did while he was here," said Larry Clothier, Hargrove's longtime manager. "Musicians from around the world embraced Roy. During his visit to Cuba, he and Chucho Valdez became friends, and they began playing together whenever the opportunity arose."
Hargrove, a two-time Grammy winner was a jazz chameleon. With his RH Factor band, he navigated through the neo-soul, hip-hop waters. For these journeys, some of his cast included Erykah Badu, Common, Marc Cary and D'Angelo.
He led his hard-bop quintet through a sea of hip nonnegotiable swing, and then took to the trio format with bassist Christian McBride and pianist Stephen Scott.
With Hargrove's eclectic style, there is no telling who might appear onstage. Being there will be a memorable moment in time and improvisation. Christian McBride will be the host. For more information, visit the website jazz.org.