Suriname turns down Chinese mega fishing ships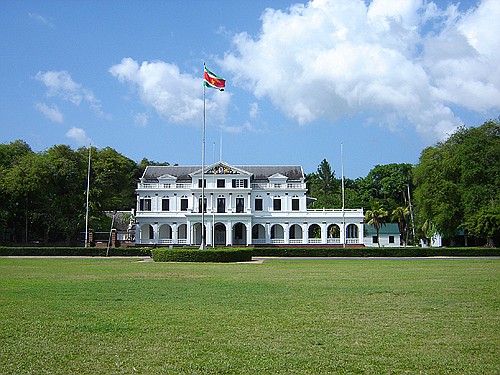 Authorities in Suriname have rejected applications for permits by a fleet of six Chinese mega fishing vessels to work in the country's waters and are preparing to send them away amid pressure from the local fishing community and other stakeholders.
Without any announcement or warning whatsoever, the mega Chinese mother ships appeared in local ports in the past month. Officials said the Chinese were awaiting a positive word from government to begin operations in waters off Suriname and neighboring Guyana, but the local fishing and shrimping association heaped so much pressure on the administration of President Desi Bouterse that it quickly backed away from any plans it might have had to allow the Chinese ships to work in fishing groups off the coast.
Minister of Fisheries Lekhram Soerdjan said the 100-foot vessels did not meet local regulations, so authorities had no choice but to turn them down and ask them to leave local waters.
The matter had caused so much tension that it reached the 51-member National Assembly, where lawmakers were almost unanimous in their rejection of the Chinese fishing applications in a country where officials already complain about the less than acceptable ability of enforcement agencies to properly monitor activities in Surinamese waters. This incident is not the first time that Chinese mega vessels have tried to work in this part of the world.
In 2015, representatives from a company calling itself Fuzhou Hongdong Pelagic Fishery had applied to neighboring Guyana for permits for 35 ships, 120-foot trawlers and drift netters, to work in Guyanese waters, but the umbrella seafood and processors association railed against the granting of any work permits because drift netters clear out fishing grounds and leave little or nothing for local vessels. Then Minister of Fisheries Leslie Ramsammy and other officials sat on the applications and resisted pressure from former President Bharrat Jagdeo and others who were lobbying for a place in the sun for the Chinese. It is unclear if these boats are linked to the same company.
The same government had already placed restrictions on the number of registered local vessels to protect the fish and shrimp stocks but was still angling to allow these Chinese mega vessels to operate in Guyana's economic zone.
In protesting against the Chinese vessels, Surinamese fishermen pointed to regulations limiting engine horsepower of all boats to 500. The Chinese vessels were listed at approximately 3,500 hp, nearly seven times more powerful than the allowable limit. Local rules mandate that all vessels bring their catch ashore for processing, which must be done by Surinamese. All processing is done on the mother ships of the Chinese, so authorities fear they may never see the boats again or be able to monitor what they catch and process legally. The fisheries sector brings in approximately $40 million annually.
"The Chinese ships do not land after their catch, but process and move it directly to a mother ship," said Udo Karg, the head of the Surinamese Seafood Association. "A well-known system in the large fishing industries. The Chinese trawlers have to leave because they do not meet the licensing requirements of Suriname."
Prahalad Sewdien, the Farmers Federation president, noted, "The Chinese ships do not even land after their catch, but process and move it directly to a mother ship. A well-known system in the large fishing industries. It is a narrow strip where there is work, there is no room for more fishermen."
Local media quote officials as saying that there were already 450 active permits issued in 2018. Any additional ones would harm the environment and deplete fishing grounds.
Authorities around the world are complaining about a virtual war by Chinese fishing companies as Beijing has been pushing governments to sign legally binding port state measures agreements. So far several CARICOM bloc countries, including Barbados, Dominica, Guyana and St. Kitts, have signed bilateral agreements with China to cover seafood activities, but no mega ships are known to be working in such waters.