The year in review in Black theater—moving, fresh, phenomenal!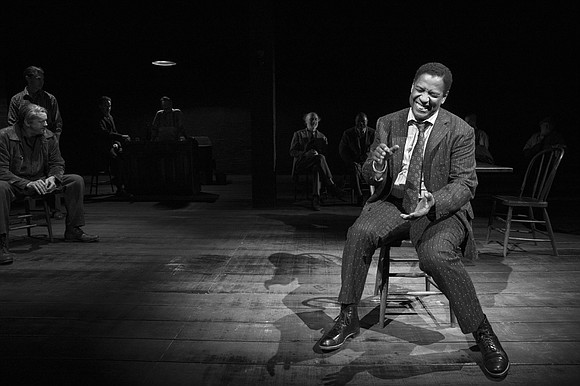 The year 2018 was a year I will never forget in Black theater. It was full of nontraditional casting such as Condola Rashad in the lead role of Joan of Arc in "Saint Joan" on Broadway. There were stupendous performances on Broadway by Rashad and Denzel Washington in "The Iceman Cometh" and the stunning Broadway debut of Lauren Ridloff in "Children of a Lesser God," directed by Kenny Leon. Moving, original works were the bill of fare throughout the year with productions such as "A Small Oak Tree Runs Red" by Lekethia Dalcoe at the Billie Holiday Theatre, which talked about three Black people who had been lynched in 1918 in Valdosta, Ga. "The Peculiar Patriot," written and performed by Liza Jessie Peterson at the National Black Theatre, which focused on Black incarceration, and "Sugar in Our Wounds" and "Fireflies," both written by Donja Love, dealing with homosexuality and lesbian love within the Black community, placing it first during slavery times and then during the Civil Rights Movement.  "Eve's Song" by Patricia Ione Lloyd at the Public Theater was a powerful, eye-opening look into lesbian love and a Black mother's struggle to raise and care for her children, work and run her home, and it showed how so many people live a façade but have serious issues happening in the background. "Good Grief" by Agozi Anywanwu at the Vineyard Theatre looked at how we deal with the death of someone we cared greatly for. Blacks made strides on Broadway and off-Broadway, and local Black theaters staged plays that were powerful, expressive offerings. It was a year of brand-new plays with singing, such as Rajendra Ramoon Maharaj's "Little Rock," about the Little Rock Nine; revivals of classic productions, such as Classical Theatre of Harlem's "Antigone"; and revivals of tremendously stupendous musicals such as Classic Stage Company's production of "Carmen Jones," starring Anika Noni Rose. There has never been a musical like it! It was a time when an entertainment legend—Ben Vereen—took to the stage and said thanks. It was a time when plays on Broadway reflected the real struggles of American life, such as "American Son" by Christopher Demos-Brown, directed also by Kenny Leon. It was also a year of sadness as three treasured members of the Black theater community made their homegoings—Gertrude Hadley-Jeannette, Grace L. Jones and Charles Weldon.
Going to see plays in 2018 was an emotional experience that sometimes became overwhelming. The offerings were so powerful. I saw shows that left me speechless because I was so moved. At the end of the performances, I could only stand and clap, but no words would come out of my lips.
The year started with "A Small Oak Tree Runs Red" at the Billie Holiday Theatre in Brooklyn. This enthralling drama, based on a historical event, was soul-stirring, take you to school, take you to church theater. Lekethia Dalcoe told the stories of three Blacks who were lynched in Valdosta, Ga. in 1918, Mary Turner, Hayes Turner and the baby of Mary Turner, whose names are included in a list of 4,000 Blacks documented as being lynched between 1877 and 1950 in this country. The cast was absolutely riveting to watch and included Kyra Riley as Mary, R.J. Foster as Hayes and Yusef Miller as Sidney, who had been a slave with Hayes and Mary. The play featured explosively brilliant direction by Harry Lennix.