The year in review in Black theater—moving, fresh, phenomenal!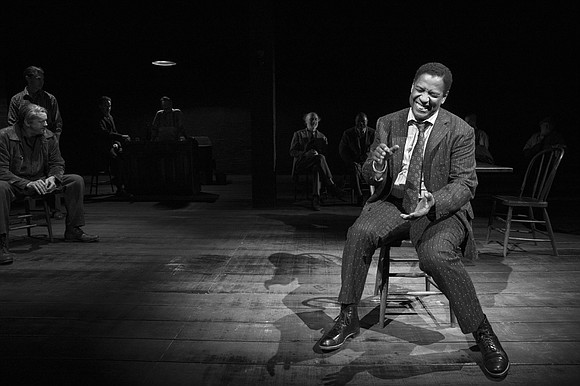 The year 2018 was a year I will never forget in Black theater. It was full of nontraditional casting such as Condola Rashad in the lead role of Joan of Arc in "Saint Joan" on Broadway. There were stupendous performances on Broadway by Rashad and Denzel Washington in "The Iceman Cometh" and the stunning Broadway debut of Lauren Ridloff in "Children of a Lesser God," directed by Kenny Leon. Moving, original works were the bill of fare throughout the year with productions such as "A Small Oak Tree Runs Red" by Lekethia Dalcoe at the Billie Holiday Theatre, which talked about three Black people who had been lynched in 1918 in Valdosta, Ga. "The Peculiar Patriot," written and performed by Liza Jessie Peterson at the National Black Theatre, which focused on Black incarceration, and "Sugar in Our Wounds" and "Fireflies," both written by Donja Love, dealing with homosexuality and lesbian love within the Black community, placing it first during slavery times and then during the Civil Rights Movement.  "Eve's Song" by Patricia Ione Lloyd at the Public Theater was a powerful, eye-opening look into lesbian love and a Black mother's struggle to raise and care for her children, work and run her home, and it showed how so many people live a façade but have serious issues happening in the background. "Good Grief" by Agozi Anywanwu at the Vineyard Theatre looked at how we deal with the death of someone we cared greatly for. Blacks made strides on Broadway and off-Broadway, and local Black theaters staged plays that were powerful, expressive offerings. It was a year of brand-new plays with singing, such as Rajendra Ramoon Maharaj's "Little Rock," about the Little Rock Nine; revivals of classic productions, such as Classical Theatre of Harlem's "Antigone"; and revivals of tremendously stupendous musicals such as Classic Stage Company's production of "Carmen Jones," starring Anika Noni Rose. There has never been a musical like it! It was a time when an entertainment legend—Ben Vereen—took to the stage and said thanks. It was a time when plays on Broadway reflected the real struggles of American life, such as "American Son" by Christopher Demos-Brown, directed also by Kenny Leon. It was also a year of sadness as three treasured members of the Black theater community made their homegoings—Gertrude Hadley-Jeannette, Grace L. Jones and Charles Weldon.
Going to see plays in 2018 was an emotional experience that sometimes became overwhelming. The offerings were so powerful. I saw shows that left me speechless because I was so moved. At the end of the performances, I could only stand and clap, but no words would come out of my lips.
The year started with "A Small Oak Tree Runs Red" at the Billie Holiday Theatre in Brooklyn. This enthralling drama, based on a historical event, was soul-stirring, take you to school, take you to church theater. Lekethia Dalcoe told the stories of three Blacks who were lynched in Valdosta, Ga. in 1918, Mary Turner, Hayes Turner and the baby of Mary Turner, whose names are included in a list of 4,000 Blacks documented as being lynched between 1877 and 1950 in this country. The cast was absolutely riveting to watch and included Kyra Riley as Mary, R.J. Foster as Hayes and Yusef Miller as Sidney, who had been a slave with Hayes and Mary. The play featured explosively brilliant direction by Harry Lennix.
In March an amazing revival of Charles Fuller's "A Soldier's Play" commemorated the 50th anniversary of NEC. The production played at the Gene Frankel Theatre and was brilliantly directed by Charles Weldon, artistic director for NEC. It told the story of a unit of Black soldiers in 1943 and the murder of a Black Sergeant. It featured a phenomenal cast that included Gil Tucker as Sergeant Waters, and he was joined by an outstanding ensemble that included Fulton C. Hodges, Jimmy Gary Jr., Chaz Reuben, Adrian Washington, Horace Glasper, Arron Lloyd, Jay Ward, Derek Dean, Aaron Sparks and Buck Hinkle.
April had tears, hope and acceptance. Tears for a fallen leader in Black theater for decades as April 4, the Black theater community lost Gertrude Hadley-Jeanette, who founded and helmed the H.A.D.L.E.Y. Players in Harlem. She was 103 years old. Hope and acceptance came on the Broadway stage at the Samuel J. Friedman Theatre on West 47th Street, where nontraditional casting found Broadway audiences pleasantly surprised as Condola Rashad took on the classical white actress- portrayed role of Joan of Arc and commanded the stage with a fresh focused presence in "Saint Joan." The Manhattan Theatre Club production had a marvelous ensemble cast that included Walter Bobbie, Adam Chanler-Berat, Jack Davenport, John Glover, Patrick Page, Daniel Sunjata, Maurice Jones, Russell G. Jones, Max Gordon Moore, Matthew Saldivar, Robert Stanton and Lou Sumrall. Although the subject was very serious, the Bernard Shaw classic had many humorous moments, surprisingly and poignantly direction by David Sullivan. Denzel Washington conveyed his acting prowess as he starred on Broadway in "The Iceman Cometh," at the Bernard B. Jacobs Theatre on West 45th Street. The sobering Eugene O' Neill play about the ills of alcoholism had everyone captivated. Washington was onstage with a flawless cast that included Colm Meaney, David Morse, Bill Irwin, Michael Potts, Reg Rogers, Jack McGee, Austin Butler, Frank Wood, Dakim Matthews, Clark Middleton, Neal Huff, Tammy Blanchard, Carolyn Braver, Nina Grollman, Thomas Michael Hammond and Joe Forbrich.  The added plus to this production was that it was dynamically directed by one of the best storytellers of our time, George C. Wolfe. Playwright Dominique Morriseau wrote a stunning play called "Paradise Blue," which was presented by Signature Theatre, her first production of her Signature residency. The play looked at gentrification in Detroit's Black Bottom neighborhood in 1949 and focused on a club owner named Blue. It featured an all-Black cast that was amazing and included J. Alphonse Nicholson, Francois Battiste, Kristolyn Lloyd, Simone Missick and Keith Randolph Smith. It was superbly directed by Ruben Santiago-Hudson, a man who has distinguished himself as a playwright, actor and director. Once again, disco was alive and well and it was at the Lunt-Fontaine Theatre on West 46th Street, where "Summer: The Donna Summer Musical." Three actresses played and sang as the Diva at different stages in her life—LaChanze, Ariana DeBose and Storm Lever—and these ladies made Broadway sizzle! What was brilliant about this musical was that Colman Domingo, Robert Cary and Des McAnuff, who wrote the book, managed to tell Summer's story through her music and let the world know the joys, struggles and the inner demons that Donna Summer had in her life. The musical also featured Ken Robinson.
May was extremely busy. It ushered in something different, as a Broadway show focused on a topic rarely talked about. Deaf, mute actress Lauren Ridloff was unbelievably compelling in her Broadway debut as Sarah a deaf mute in "Children of a Lesser God" by Mark Medoff. The play let everyone have an up-close view of what deaf people go through in a hearing society. The play had sign language and subtitles and was very touching to see. Ridloff was accompanied by an incredible cast that included Joshua Jackson, African-American and deaf actress Treshelle Edmond, Kecia Lewis, John McGinty, Anthony Edwards and Julee Cerda. It was directed by a man whose work I've always found myself consistently admiring, the one and only Kenny Leon. Every time that I hear that Lynn Nottage has put pen to paper, I know I am in for an enlightening experience, and enlightenment is definitely what audiences received at the Public Theater as her new play, "Mlima's Tale," was presented. In "Mlima's Tale," Nottage took on the issue of elephant poachers in Kenya. She let the audience see that even at a national reserve park, poachers will kill animals to get what they want. Nottage took her time to weave together a story that started out from the victim's point of view, the elephant named Mlima. "Mlima's Tale" was stunning theater. Once Mlima was captured, killed and mutilated, it's truly something to watch how many people are involved in what happens to him. Nottage took the time to let you see every person involved in this web of people who make money off the death and dismemberment of this gentle creature. And, with everyone who is part of the scenario, the spirit of Mlima puts a distinctive marking on each one. The cast was superbly magnificent and featured Sahr Ngaujah as Mlima, Kevin Mambo, Jojo Gonzalez and Ito Aghayere. There was extraordinary direction by Jo Bonney. "Our Lady of 121st Street," which played at the Pershing Square Signature Center on West 42nd Street and was written by Stephen Adly Guirgis, saw Phylicia Rashad in the director's seat. The play is set around the death and disappearance of the body of Sister Rose and the diverse stories of the mourners, her former students, who come to pay their respects—stories that show their anger, vulnerability and humanity. All these stories were brought together by the precision direction of Rashad. The performances of the cast were flawless and often laugh out loud funny. The cast featured Joey Auzenne, Hill Harper, John Doman, Jimonn Cole, Kevin Isola, Quincy Tyler Berstine, Paola Lazaro, Erick Betancourt, Maki Borden, Stephanie Kurtzuba, Diedre Friel and John Procaccino. African-American playwright Dael Orlandersmith had a revival of "Yellowman" presented at the Billie Holiday Theatre in Brooklyn. This play was a stunning, vivid and candid look at the issue of being a light-skinned and a dark-skinned Black person and how we view ourselves and each other. It was eye-opening and thought-provoking to watch. It had phenomenal acting performances by two actors playing multiple characters—Jessica Frances Dukes and Tyrone Mitchell Henderson. There was spot-on direction by Timothy Douglas. This play supported what I will always maintain, the Billie Holiday Theatre in Brooklyn is a theatrical treasure that brings to the stage provocative, timely, meaningful and even at times, life-changing plays.
June saw another directorial splendor by Ruben Santiago-Hudson, as audiences enjoyed "Othello" for free at the Delacorte Theater, the Shakespeare in the Park arm of the Public Theater. It was a piece full of fantastic, brilliant and passionate acting performances, the rich, rhythmic words of Shakespeare and the delicate beauty of an open theater with the night sky as the ceiling. "Othello" is Shakespeare's masterpiece about the love of a Black Moor named Othello and his white beloved Desdemona. It's a story about jealousy, betrayal and murder. Othello was poignantly played by an amazingly passionate actor, Chukwudi Iwuji. Other featured actors included Heather Lind, Corey Stoll, Alison Wright, Babak Taftj, African-American Motell Foster, Flor De Luz Perez and Peter Jay Fernandez. Additional cast members included Peter Van Wagner, Thomas Schall, Miguel Perez, Andrew Hovelson, Kevin Rico Angulo, Christopher Cassarino, David Kenner, Tim Nicolai, Lily Santiago, Caroline Siewert and Allen Tedder. "Carmen Jones" was colossal! It was presented by the Classic Stage Company, commemorating the theater company's 50th year. "Carmen Jones" featured a superb all-Black cast, singing in English and performing the beloved Oscar Hammerstein II musical, based on the Meilhac and Halevy's adaptation of Prosper Merimee's "Carmen," with music by Georges Bizet. The title role was performed by the one and only Anika Noni Rose. The ensemble had some of the most lovely, operatic voices you would ever hear. I found myself delighting in every passionately performed word and note that uttered from their lips. The ensemble was perfection personified and included David Aron Damane, Soara-Joye Ross, Clifton Duncan, Lindsay Roberts, Erica Dorfler, Andrea Jones-Sojola, Tramell Tillman, Justin Keyes and Lawrence E. Street. The musical featured magnificent choreography by Bill T. Jones and impeccable direction by John Doyle. It was performed at Classic Stage Company on East 13th Street.
July saw a glorious tribute to musical writer Micki Grant as her musical "Don't Bother Me, I Can't Cope" was presented as a part of Encores! Off-Center Series at New York City Center. This musical, with music and lyrics by Micki Grant, was magnificent to experience! I did not have the opportunity to see it in the 1970s, but I could tell that a lot of people sitting in the capacity packed New York City Center audience had not only experienced it in the past but also were excited to experience it again. The musical, with a concept by the late Vinnette Carroll, had choreography and direction by Savion Glover. Grant's 23 songs were a lovely offering with jazz, blues, gospel, calypso and soul music. The songs grabbed your attention and addressed the issues that we face in the Black community, of having so many troubles and problems but realizing that we can't stop, we've "Gotta Keep Movin'." The cast was superbly talented and featured Rheaume Crenshaw, Dayna Dantzler, Aisha De Haas, James T. Lane and Wayne Pretlow. Ensemble members included Alexandria Bradley, Marshall L. Davis Jr., C.K. Edwards, Jeffry Foote, Shonica Gooden, Nine Hudson, Marla McReynolds and Amber Barbee Pickens. The production had musical direction by Annatasia Victory. Genius, brilliance, startling political relevancy—those were the things I experienced in Harlem's Richard Rodgers Amphitheater in Marcus Garvey Park as I watched the Classical Theatre of Harlem perform Sophocles' "Antigone." This production was inspired by Paul Roche's adaptation. The production was the historic Greek story of King Cleon and his niece Antigone, who he ends up sentencing to death. There was stunning choreography by Tiffany Rea-Fisher and brilliant, passionate direction by Carl Cofield. The superb cast consisted of Ty Jones, the producing artistic director of Classical Theatre of Harlem, Alexandria King, Denzel Fields, Nedra Snipes, Ryan Alvarado, Avon Haughton, Adaku Okpi, Ava McCoy and Khalil X. Daniel. The remainder of the company was perfect as they portrayed guards and dancers and included R.J. Foster, Lamien Leroy Gibba, Anthony Vaugh Merchant, Jovanna Parks, Samantha Barriento, Daniela Funicello, Brynlie Helmich and Thomas Varvaro. Liza Jessie Peterson was "dropping knowledge" about Black incarceration in "The Peculiar Patriot" that played at the National Black Theatre. The production was presented by the National Black Theatre and HI-Arts. Peterson not only performed the one-woman piece but also wrote it. The audience is introduced to Betsy LaQuanda Ross, a woman who grew up with a drug addicted mother, and a Black Panther father who died in prison, murdered by the correction officers, but still managed to impart his pro-Black and power-to-the-people principles in her heart. She found herself struggling, abused and getting into trouble. She was in juvenile detention and now as an adult is trying to turn her life around. What she does to support her Black community is go to prisons to visit her incarcerated family and friends, especially a longtime friend named JoAnn. She updates them on the goings-on and brings some laughter into their lives. Through visits with JoAnn, LaQuanda not only shares gossip but also speaks facts about the horrible injustices that are happening to African-Americans in the criminal justice system. Every moment of the 90-minute performance, without an intermission, was filled with Peterson's obvious dedication and passion to making sure that it becomes common knowledge that slavery is alive and thriving through the prison system in this country. Peterson's dedication to speaking "truth" on what is happening with Blacks and incarceration is something that is so brilliant she was awarded a $100,000 grant from Agnes Gund's Art for Justice Fund and will be doing a national tour of this play. This play has superb, spot-on direction by Talvin Wilks. "Little Rock" told the story of the Little Rock Nine, the nine Black students who integrated Little Rock High School in Arkansas in 1957-1958. Their names were Melba Pattilla Beals, Minniejean Brown, Elizabeth Eckford, Ernest Green, Thelma Mothershed, Terrence Roberts, Jefferson Thomas, Gloria Ray Karlmark and Carlotta Walls LaNier. It took Rajendra Ramoon Maharaj 13 years to interview members of the group and put together a play with singing to tell their story. He also directed the work. Well, it was worth the wait, and it played at the Sheen Center for Thought And Culture on Bleecker Street. The audience got to see the horrific racism that these students faced every day during their first year at Little Rock High School. There was something very moving about seeing young people who were only trying to go to school and get an education, but had to face being literally pushed and beaten, called "monkeys" and having themselves and their families threatened. The cast was absolutely wonderful and consisted of Rebekah Brockman, Justin Cunningham, Peter O'Connor, Ashley Robinson, Damian Jermaine Thompson, Stephanie Umoh, Anita Welch and Shanice Williams, and at the performance I attended, Michael Gene Jacobs. Donja R. Love is a playwright to be reckoned with. His play, "Sugar in Our Wounds," which played at New York City Center and was presented by Manhattan Theatre Club, was one of the most powerfully, tenderly and brilliantly written plays I've seen! It was a play that dealt with a topic that is not normally addressed in theater, the subject of gay Black men during slavery times. As bad as things can be at times for homosexual men today, imagine what it must have been like to be a slave in 1862, a Black male, considered less than human, and then on top of that to have feelings that were considered an abomination by society. Love created a stunning, compassionate theatrical piece that gave you pause, made you sad, made you angry, educated you and gave honor to our ancestors and all that they went through. This original and moving playwright gave us slaves on a plantation that has a huge old tree on it, and the story is that every man on the plantation in the family of a slave named James was hung from that tree. The spirits of his ancestors are in the tree and often call out to him. What happened is something you would have to experience. Love's dynamic story was poignantly directed by Saheem Ali. The ensemble gave riveting performances and included Stephanie Berry, Sheldon Best, Tiffany Rachelle Stewart, Chinaza Uche and Fern Cozine.
More A&E's Year in Review next week!