Del Mar and Rancho Palo Verdes: SoCal shining stars
SHERYL NANCE-NASH | 1/10/2019, 4:09 p.m.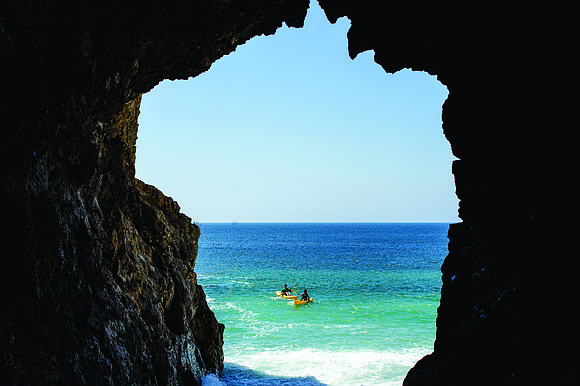 When you consider exploring Southern California, you likely envision a road trip that includes San Diego and Los Angeles. For sure, that's a winner, but venture off the path a bit and you'll find Del Mar and Rancho Palo Verdes, true gems indeed.
Del Mar has long been about luxury. Back in the day, Hollywood elites such as Lucy and Desi, Bing Crosby and Jimmy Durante escaped to the beaches, played the ponies at the legendary Del Mar Racetrack with its internationally acclaimed Del Mar Thoroughbred Club and wined and dined themselves in style but without pomp and circumstance. There is a sense of history in this coastal village just north of San Diego. You'll be smitten by the half-timbered Tudor-style, think Medieval architecture, quaint shops and of course, outdoor dining. After all, it is sunny Southern California. But don't let all the history fool you. Del Mar is decidedly hip. In September, Del Mar Racetrack is home to Kaaboo, three days of music, comedy, art, cuisine and all manner of fun. September also is the time of the annual Taste of Del Mar, when local restaurants showcase their cuisine, and the music, wine, beer and spirts flow. Del Mar is cool enough to have its first brewery, Viewpoint Brewing Co. It overlooks the San Dieguito Lagoon. Think warehouse, massive indoor/outdoor space. Not only is the beer awesome, but also food is not an afterthought. Spoil yourself with the truffle fries, pork belly bites, beer-battered crispy shrimp, ceviche—and that's just getting you started.
In these parts, they like getting up early. Play tennis, golf or bike the Pacific Coast Highway. Take a guided hike through the Torrey Pines Reserve, with its panoramic views. Or be even more adventurous and take a surf lesson with the Fulcrum Surf school. Founder Dan Mori is patient and gentle, perfect for novices taking to the surf. Try it, you might like it. You will certainly never forget this big adventure. Whichever you choose, afterward, chill time is in order. L'Auberge Del Mar is just the place. The historic hotel overlooks the Pacific Ocean. Wind your way down the private path to the beach to relax or picnic. Then there's Spa L'Auberge. You can't go wrong with the Signature Massage customized for you. You'll love the blend of local nourishing oils used with Swedish massage techniques.
When you're good and rested and ready to hit the road, Rancho Palos Verdes awaits. It's approximately a two-hour drive. Poised above coastal bluffs with sweeping views of the Pacific Ocean is the Terranea Resort on the Los Angeles coast. The Mediterranean-inspired resort is sophisticated and elegant. The service high touch. You'll feel like a star. The 102-acre estate features a full-service spa and fitness center, as well as nine distinct dining experiences, award-winning golf course, four swimming pools, kids club and ecological enrichment programs. You have a range of accommodations, from guestrooms, suites, casitas, bungalows and villas. Do take a guided coastal walk. The Terranea Discovery Trail offers views from the cliffs that are stunning, as well as a look at the Point Vicente Lighthouse. You won't want to miss the Wayfarers Chapel, also called the Glass Church. It overlooks the Pacific Coast and was designed by Frank Lloyd Wright's son. Enjoy the greenery of the South Coast Botanic Garden in nearby Palos Verdes Estates. If you're traveling with kids, the good news is Disneyland is approximately an hour's drive away.