Jazz Notes: Sands dazzles, Winter Jazzfest, Allan Harris APAP
Ron Scott | 1/10/2019, 4:15 p.m.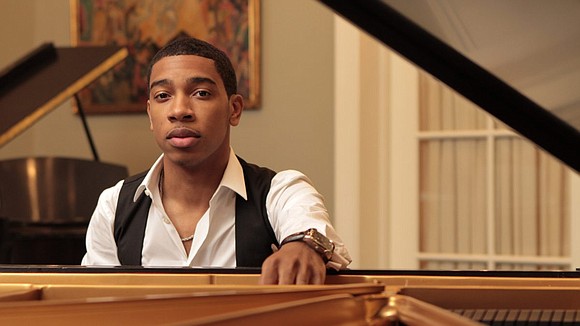 The pianist and composer Christian Sands has grown from a rising young musician to be watched to a seasoned 29-year-old to be seen whenever he hits town. When in motion, he resembles the styles of Oscar Peterson, Hank Jones and some Herbie Hancock.
Although he has learned from a host of pianists, including his mentors Dr. Billy Taylor and Geri Allen, he has managed to find his own outstanding amazing voice. His sound is worth hearing over and over again, and during live performances he touches your soul.
During his recent sold-out engagement at Dizzy's Club Coca Cola, he performed the first night with his band, and the following evening it was the Erroll Garner Project Trio with the bassist Luquest Curtis and drummer Terreon Gully.
The trio played the music of Garner from "Erroll's Theme," a walking blues tune with Sands' piano leading an inventive melodic conversation as Curtis wove in a deep harmonic flow. The trio was all in on The Beatles hit tune "Yesterday," covered by Garner. Various audio recordings of Art Blakey and Garner were heard during the performance.
Garner noted he really liked the tune and decided to record it after it was no longer being played regularly on the radio. Sands' rendition was genius; his arrangement was so restructured, one could hardly recognize it aside from the main chorus. He opened it playing a low key solo that eventually led into an infectious swing tune with Gully's blazing drums and Curtis thumping funk. It wasn't the "Yesterday" we all know, and why would it be? Sands' restructured "Misty," Garner's greatest hit and jazz standard, was the deep down, heart-throbbin' blues that even caused some men in the audience to sigh or holler, "Go on Christian, talk." Sands is a young composer and pianist who is moving into genius mode—he has a style and vocabulary that are in constant motion.
NYC is known as the entertainment capital of the world and last weekend it was in overdrive as tourists, fans and musicians arrived for the NYC Winter Jazz Festival. The festival, now in its 15th year (Jan. 4 ton Jan. 12), has become one of the major festivals in Gotham and the U.S. The event, held in various venues in Manhattan's West Village, boasted a long list of varied artists from saxophonist Tia Fuller's "Diamond Cut," and Fuller demonstrated that she is a creative musician forging new conversations in the jazz movement.
The event featured the duo of pianists Vijay Iyer and Craig Taborn, who are always taking the music into unforeseeable directions, as well as the Zig Zag Power Trio with bassist Melvin Gibbs, guitarist Vernon Reid and drummer Will Calhoun. The latter two were part of the 1984 afro surreal group that introduced a new sound to Black music family.
Theo Blackman and The Westerlies (two trumpets, two trombones) performed. The vocalist and lyricist Blackman noted he performs songs of "refuge and resistance." They introduced an interesting take on the International Ladies' Garment Workers' Union commercial, "Look for the Union Label," and "Thoughts and Prayers," a song of sarcasm. Blackman noted, "Due to today's atmosphere, protest songs are needed just like mothers shouldn't cry, babies shouldn't die and no one should kill one another." The brass section was a cross of swing, pop and classical.
"Good Vibes" vibraphonist Joel Ross performed with saxophonist Immanuel Wilkins, pianist Jeremy Corren, bassist Or Bareket and drummer Jeremy Dutton. Ross brings a swinging revolutionary vibe to the vibes romping from straight-ahead to the afro absurdity of the instrument's realm. He is taking the traditions of Larry Young