The year in review in Black theater—moving, fresh, phenomenal! Part 2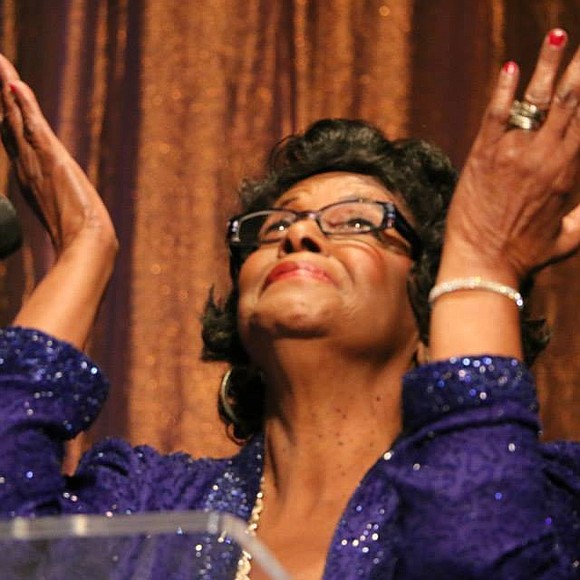 Aug. 26, 2018, will forever break my heart. The president of AUDELCO, Grace L. Jones, died on that day at the age of 90, after being at the helm of the organization for many years. She was the AUDELCO theater mother and like a mother to me and so many others. She was a lady that walked with grace like the night and will be so truly missed. A lovely memorial service was held for her at her home church of 75 years, Abyssinian Baptist Church. A service was delivered by the Rev. Dr. Calvin O. Butts III, and so much of the theater community came to bid her a fond and beloved farewell. God bless you and keep you by his side always, Ms. Grace, or Ma as I liked to call her.
"Smokey Joe's Café" was a "Smokin' Sensation" at Stage 42! The songs of Leiber and Stoller are timeless classics that were absolutely amazing to hear again. The ensemble had some of the most phenomenal voices that you will experience. The musical featured more than 30 stupendous songs that definitely took you back, including "Dance With Me," "Keep on Rollin'," "Kansas  City," "Along Came Jones," "Poison Ivy," "Yakety Yak," "Charlie Brown," "On Broadway," "Trouble," "Pearl's a Singer," "I'm a Woman," "There Goes My Baby," "Love Potion #9," "Spanish Harlem" and "Stand By Me." Kyle Taylor Parker, Jelani Remy, John Edwards and Dwayne Cooper masterfully handle several memorable group numbers. Max Sangerman sang in several songs with other cast members as he replaced Dan Domenech in the performance I saw, and he did a fine job. The ladies in the musical also held their own and included Alysha Umphress, Dionne D. Figgins, Nicole Vanessa Ortiz and Emma Degerstedt. There was something for everyone in this splendid musical. It was brilliantly directed by Joshua Bergasse, who played the dual role as the musical's choreographer. "Smokey Joe's Café" had a predominantly African-American cast. It also has a long list of producers, two of whom were African-Americans, Stephen Byrd and Alia Jones-Harvey.
September brought a production about segregation and the racism young Blacks faced even on the basketball court in Alabama in 1951 in "Separate and Equal," which played at 59 East 59th Street. It was poignantly presented by the University of Alabama in partnership with the Birmingham Metro NAACP and Birmingham Civil Rights Institute. The story was about a basketball game that took place in 1951 on a court in Birmingham, Ala. between three white teens and three Black teens, something that was illegal. Segregation was alive and well and the Black teens weren't even allowed to be on the white teens' basketball court. This production was inspired by testimonials from the Oral History Project at the Birmingham Civil Rights Institute. That's right, there was testimony that a game actually happened. The presentation was done very creatively in Theater B.  You wonder how will they accomplish playing basketball? Well, basketball hoops were projected on the screens, and when players played with an invisible basketball and took a shot, a ball was shown on the screen going in for the shot or missing. Playwright and director Seth Panitch definitely delivered a riveting story, as during the basketball game, we listened to the players say racially charged things to each other, but also in revealing back scenes, we saw what these characters' backstories are. Some whites had racists parents; some Blacks had had family members killed by racist whites. Through the teens playing basketball and finding a common interest, the impossible began to happen. The barricades imposed by society seemed to decay, but that was short-lived. The cast was brilliant and had one mesmerized as they danced, played ball, worked up a real sweat and told a riveting story, and it included Adrian Baidoo, James Holloway, Edwin Brown III, Steven Bond Jr.  Ross Birdsong and Dylan Guy Davis. The cast also included Will Badgett, Pamela Alexis, Barbra Wengerd, Jeremy Cox and Ted Barton. So many times when you watch actors in a show, you think that everything in their lives must be great. Here they are successful and starring in a Broadway show. You don't think of them as having back lives and lives that might not be filled with happiness and acting classes. You don't ever really know a person's full story, unless they have the strength to choose to share it. That was the case with Chesney Snow. Snow, with Rebecca Arends, wrote "The Unwritten Law," which is an honest, thought-provoking story on his life. It played at Dixon Place. Snow, known for his Beatbox sounds in his role of Boxman in "In Transit" on Broadway, now had a very personal, sad, difficult story to tell about his own real-life issues, issues that involved a lot of family separation, being raised by other family members, having a father who was incarcerated, a sister who was molested, a disabled cousin and struggling to find his avenue in the entertainment business. Snow told his story to the audience and as he talked about characters such as his mother, his father, his sister and his mother's boyfriend, actors came out and did beautiful, poignant, interpretative dances to live music, representing these characters, and then took on the roles and spoke. In addition to Snow, the marvelous actors on the stage included Rebecca Arends, who actually had a quadruple role because she was the production director and choreographer as well. Other cast members included Lara Dadap, A. J. Khaw and Maleek Washington. Broadway saw the first Black transgender person to star in a show, when Peppermint took to the stage at the Hudson Theatre as Pythio, a character in the hilarious musical comedy "Head Over Heels," featuring the music of the Go-Go's, which is still playing now. The musical, based on "The Arcadia" by Sir Philip Sidney, with conception and original book by Jeff Whitty and adapted by James Magruder, tells the story of the people of Arcadia. The people are proud that Arcadia has "the beat," and there is a fear that the kingdom will have events happen because of the King's stubbornness that will lead to the people losing "the beat." The cast is superb! It includes African-American Taylor Iman Jones, Bonnie Milligan, Andrew Durand, Jeremy Kushnier, Rachel York, Alexandra Socha and Tom Alan Robbins. The entire cast has some very marvelous and powerful vocal instruments. It was really enjoyable to watch this musical comedy unfold. It is performed with great humor and a slew of originality and fun. "Head Over Heels" is a hoot and something to thoroughly enjoy. It has fun choreography by Spencer Liff, great costumes by Arianne Phillips, enchanting scenic design by Julian Crouch, lighting by Kevin Adams, sound by Kai Harada, music direction/conducting by Kimberly Grigsby and flawless direction by Michael Mayer.