How healthy is gentrification?
Barrington M. Salmon, ​​(USC Annenberg Health Journalism Fellow), Contributing Writer, NNPA | 1/13/2019, 11:01 a.m.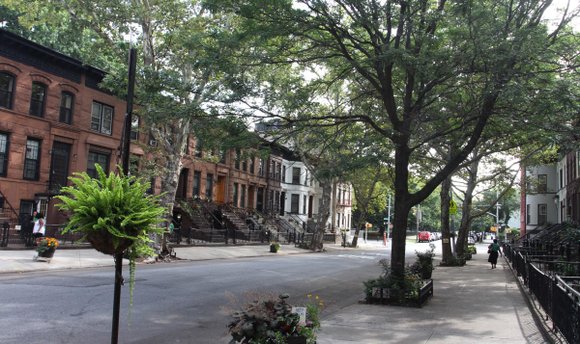 When Detrice Belt walks around what's left of her neighborhood and community, she is saddened because of the destruction of the place she calls home. She is deeply frustrated by the struggle she and the remaining residents at Barry Farm have been wrapped in for the past six years and is apprehensive about the health effects this facet of gentrification has had on her and her daughter.
Belt, 33, president of the Barry Farm Tenants' Association, is one of 80 families left out of a total of 434 who lived in the historic Southeast DC community. She has been one of the sparks of resistance for a group of residents who are committed to staying put as DC city officials demolish and rebuild the 432-unit community into 1,400 residential units of mixed-income housing and retail stores. Officials have promised to set aside 300 affordable units with the remaining units available at market rate.
Apart from the stress and anxiety of possibly losing her home, Belt, a dental hygienist and owner of two pit bulls and a turtle, said she worries about what lasting health effects this entire experience will have on her daughter​​and herself.
"They just found lead in some units on Stevens Road. They called people and were coming to paint over the areas with lead," she explained. "I understand that a test hasn't been done in 20 years. They snuck in​to​my house to paint the banisters, but someone can chip it and it's (the lead's) still there."
Belt said she is aware of the health dangers to her caused by the dust and debris coming from the demolition of nearby houses, then there's the noise of construction and the long-term and irreversible effects of lead paint exposure on residents. Belt and residents fighting against gentrification and potential health problems are intent on reducing the forced move and lowering the stress that comes with sudden change, including noise, dust and adjusting to a new cultural environment
DC housing officials usually move public housing residents from their homes until renovations or rebuilding is completed. Despite promises that residents can return once renovations are done, Belt said she's aware that only a small percentage of residents have the ability or means to do so​, ​which is why she's so adamant about staying in place while Barry Farm is rebuilt.
"I'm anxious. They're using fear tactics trying to force us out, but we told them that we want to stay in place," said Belt. "We're willing to occupy Barry Farms. People are ready. I'm definitely still fighting."
Belt's solutions include ensuring that if residents have to move off the property, housing authority staff should​​move them into some place new faster; residents should get priority when it's time to be resettled; and wherever possible, residents should be allowed to stay on the property while builders and developers build, and then move into newly constructed homes.
Belt is not alone in worrying about her health and quality of life.
Across town, in Northeast DC, Donta Waters, Leon Lightfoot, their families and other residents at Dahlgreen Courts Apartments, are fighting their own battles against gentrification and its impact on their health. After laboratory tests they agreed to, residents recently discovered that 40 of 42 of them ​​have elevated levels of lead, mold and bio-toxins.