De Blasio goes peak progressive during State of the City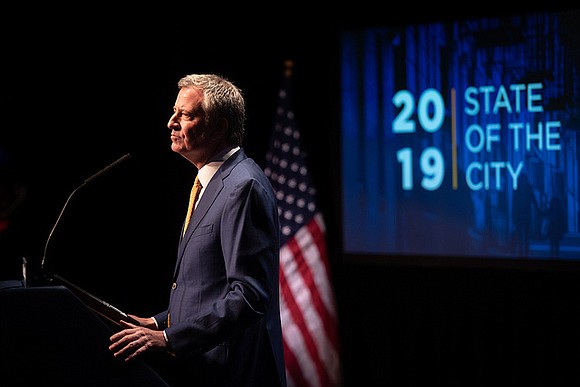 New York City Mayor Bill de Blasio went all the way progressive during his State of the City address last week. Going by the aftermath of his speech at Symphony Space on the Upper West Side, his ploy could possibly work.
De Blasio's appeal to working-class New Yorkers, tenants, retirees and school children pointed to the progressive wave that continues to roll in as a result of the actions of President Donald Trump's administration.
The mayor wanted to let the crowd in attendance know that housing is a top priority for him.
"We're also showing public housing residents that we can begin to reverse decades of disinvestment and make their lives better," said de Blasio. "The New York City Housing Authority has a plan to bring brand-new everything to 175,000 NYCHA residents, from new roofs to new kitchens and bathrooms."
De Blasio also said the city moved 2,000 homeless New Yorkers off the streets and into a permanent situation where they can be taken care of and they can get the help they need.
"And we closed more than 180 shelters that didn't meet our standards for health and safety, and we will close more," he asserted. "Now, making housing better, making it safer, making it affordable is not the only way we become the fairest big city in America."
Along with his desire to create a city-managed retirement fund for workers who can't access employer-sponsored ones, de Blasio signed an executive order to add an Office to Protect Tenants to help New Yorkers who find themselves at the mercy of unscrupulous landlords.
New York State Attorney General Letitia James praised the mayor for his tenant office proposal.
"As my previous work as public advocate documented, for too long, landlords have used tenant harassment, neglect and unjust eviction as a business model with almost complete impunity," stated James. "Creating an office to strengthen and better coordinate enforcement against these unjust and illegal activities will teach landlords that those practices must end, and will provide tenants with much needed support."
But some feel that the mayor is only trying to secure cool points with the left and that his actual actions speak more. Johnathan Westin, executive director of New York Communities for Change, said de Blasio's declaration to protect workers is at odds with what he's displayed.
"The mayor's support for Amazon runs in complete contradiction to the vision he laid out. You can't support redistribution of wealth when offering Amazon, one of the richest companies, and Bezos, the richest person on Earth, a multibillion dollar deal behind closed doors," stated Westin. "Just look at what happened to income inequality in Seattle."
De Blasio and New York State Gov. Cuomo announced last year that Amazon would call New York home and set up its new headquarters in Long Island City. Amazon will construct a 4 million square foot commercial space along the LIC waterfront while taking over a 500,000 square foot space at One Court Square in the meantime. The deal will allegedly create 1,300 direct construction jobs each year through 2033 and fill at least 25,000 jobs by 2029 and up to 40,000 by 2034.