Willis Richardson, prolific but often ignored playwright
Herb Boyd | 1/17/2019, 4:19 p.m.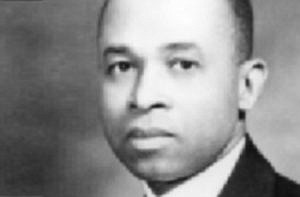 It ceases to be a surprise where the African-American presence might pop up in today's news. A recent example occurred when long-neglected playwright Willis Richardson's play "A Chip Woman's Fortune" will, along with a number of other publications, fall into the public domain. Thus, Richardson's long-forgotten drama of 1923 is out of the protection of copyright and cited with such notable American classics as Robert Frost's poem "Stopping by the Woods on a Snowy Evening."
Frost is an American icon, but unless you are a most enterprising theater scholar with expertise in African-American productions, it's a good bet that Richardson is unknown to you. I stumbled on him per chance not too long ago while completing a profile on theater critic Theophilus Lewis, who was not that enamored of Richardson's work, particularly dismissive of Richardson's "The Broken Banjo."
Of course, there was no way Richardson was going to escape Bruce Kellner's all-encompassing purview, and he devotes nearly a page of discussion to Richardson in his "The Harlem Renaissance: A Historical Dictionary for the Era." Richardson, Kellner notes, was born Nov. 5, 1889, in Wilmington, N.C. and moved with his family to Washington, D.C. after the riots in 1898.
Raised in the nation's capital, Richardson attended the prestigious M School (later Dunbar High School). Always a voracious reader, he was often derided for such absorption in literature, but he was hardly inclined to stop. "I would forget the rest of the world," he said, "and become part of the adventures of Frank and Dick Merriwell…the Liberty Boys of Seventy-Six, the James Boys and others too numerous to mention."
At the school, under the tutoring of Mary Burrill, herself a playwright, he was encouraged to write and create his own plays. He was also inspired by Angelina Grimke's play "Rachel," which he had seen in 1916. Four years later, having turned down a scholarship to attend Howard University, his dramatic sketches appeared in W.E.B. Du Bois' "Brownie's Book," and subsequently his one-act play, "The Deacon's Awakening," was published in the Crisis.
After Howard University refused to stage his plays, Richardson submitted them to the Ethiopian Art Players in Chicago. It was under the auspices of this company that "A Chip Woman's Fortune" was performed in Harlem and on Broadway in 1923, the first such production by an African-American writer. In 1924, the Howard Players staged his "Mortgaged," and Karamu House performed his "Compromise" in 1925. A year later, the Crisis awarded him its annual first prize in drama for "The Broken Banjo," produced by the Krigwa Players. He was also awarded the Amy Spingarn Prize for the play.
Emma, Matt, Sam and Adam are the principal characters in "The Broken Banjo." The play begins with Matt picking on his banjo, much to the consternation of his wife, Emma. Sam, the brother of Emma, accused Matt of murder. During the visit to Emma's house, Sam, in a tugging match with Adam, breaks the banjo. When Matt returns home and discovers his broken instrument, he is enraged and assails Sam. In retaliation, Sam reveals that he saw Matt killing Shelton with a rock. Matt decides to lock Sam and Adam in the house until they make a pledge on the Bible not to tell anyone about the murder. Emma tells Matt that they should move to another city because she doesn't trust that the two will keep their pledge. As Matt is planning to leave, Sam and Adam bring an officer to arrest Matt.