#YouToo: Documentary series 'Surviving R. Kelly' increases focus on issues of abuse and sexual assault
NAYABA ARINDE Amsterdam News Editor and CYRIL JOSH BARKER Amsterdam News Staff | 1/17/2019, 11:28 a.m.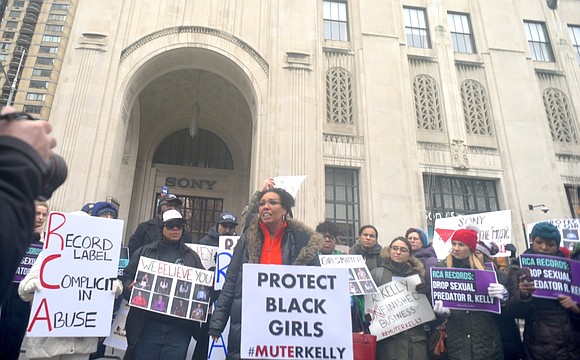 Jostling for space in the 24-hour news cycle between the rancor of the U.S. government shutdown fallout and the freshly fueled, ever-increasing circles of R. Kelly sex assault revelations, came the horrific story of the 14-year-old girl from Brownsville who said she had been raped by her father since she was 12. The Brooklyn grassroots community response was swift, dramatic and effective.
In a week when the media has been engulfed in the quagmire of the "Surviving R. Kelly" documentary allegations, a young teenage girl finally revealed that she had been victim to a sexual predator very close to home.
"[She] just blurted it out to us," the victim's family said.
That was Wednesday. By Sunday, dozens of Brownsville residents descended upon the Progressive Baptist Church on Howard Avenue, demanding immediate action and for the 61-year-old church, the alleged scene of the repeated crime, to be closed down.
Police and now criminal charges state that Matthew Gibson, son of Bishop Ben T. Gibson, head of Progressive Baptist Church in Brownsville, is accused of raping his daughter between 2013 and 2017 during her weekend visits to him.
By Monday the pastor's son was arrested. By Tuesday he was indicted and given a $10,000 bail.
The NYPD said that Jan. 10, 2019, just before 6 p.m., at an East New York homeless shelter, they arrested and charged Gibson, 44, for "criminal sexual acts, sex abuse and forcible touching of a female victim between the ages of 9 and 14 years old on multiple occasions."
The office of Brooklyn District Attorney Eric Gonzalez's criminal complaint included charges of years of "intercourse, anal and oral sex." The teenage girl detailed how Gibson abused her in and around the church.
The teen told police that the abuse began just after her mother's death, and that Gibson would abuse her in various rooms inside the church, police sources said.
Rumors emerged that there had long been talk of inappropriate goings-on with young girls.
"His father, the bishop, is on the run" an activist said Tuesday. The police department and the Brooklyn DA's office did not respond to inquiries about this accusation.
The Amsterdam News was unable to contact anyone at the Progressive Baptist Church by press time.
When asked how the child is fairing now, "She's good," the victim's aunt, Myia Maples-Andrews, said.
Wednesday, Jan. 16, advocates from Black Women's Blueprint, Color of Change, CREDO, Girls for Gender Equity, NOW-NYC and UltraViolet rallied outside Sony Music's Madison Avenue HQ in Manhattan, calling on Sony Music and its subsidiary, RCA Records, to immediately drop R. Kelly in the wake of the Lifetime docuseries "Surviving R. Kelly." The docuseries details Kelly's decades of sexual abuse perpetrated against young Black women and girls, and shines a light on those in the music industry who have not only enabled him but also profited from him. Advocates delivered petitions signed by more than 217,000 people demanding RCA Records drop R. Kelly. The protesters also presented Sony Music and RCA Records with a "Record Label of Shame" award. The action was supported by Chicago-based anti-violence organization, A Long Walk Home.