#YouToo: Documentary series 'Surviving R. Kelly' increases focus on issues of abuse and sexual assault
NAYABA ARINDE Amsterdam News Editor and CYRIL JOSH BARKER Amsterdam News Staff | 1/17/2019, 11:28 a.m.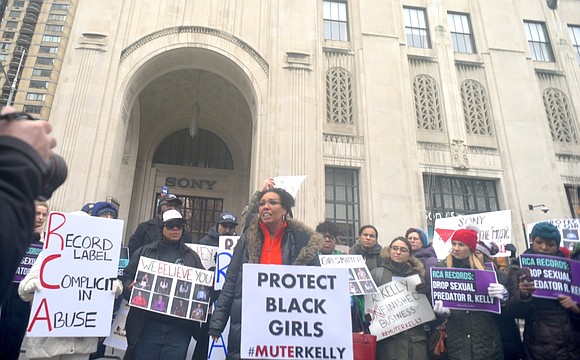 Speakers included Jade Magnus Ogunnaike, of Color of Change; Joanne N. Smith, founder and president of Girls for Gender Equity; and Jamilah Lemieux, writer/cultural critic ("Surviving R. Kelly").
Activist Rosalyn McIntosh, founder of the Traveling Domestic Violence Healing Circle, said, "I was just a guest speaker on the 'Back to Basics' podcast/radio show Saturday, Jan. 12, 2019, in the morning. The discussion was about helping victims who have experienced all kinds of trauma as it relates to domestic violence, sex assault, molestations, etc. Then that very afternoon a colleague in the advocacy work sent me a live Facebook post about a woman.
"I watched the video and it was a sister in Brooklyn crying, asking people to rally with her on Sunday against her brother-in-law that was molesting his own little girl who was her sister-in-law and it was happening in a church in Brooklyn. I said, 'Later for that.' I wasn't just going to pray. I was going to show up and cry loud like a trumpet in Zion. I could not be an advocate against all of the things I mentioned above and turn a blind eye or a deaf ear to this tragedy that this little girl and her family had experienced. They wanted her father who raped her to go to jail and he did. They also found out that the bishop of the church, who is the little girl's grandfather, was molesting his daughter at that same church years ago. Sick, I tell you. They wanted the bishop fired from the church, and I was informed after the protest Sunday the church members fired him. I know that not all men are pedophiles, but the ones that are must go to jail."
McIntosh, also a founder of Sisters Building Sisters, concluded, "The sorry thing is that the jerks go to jail, but the children have to deal with this trauma for the rest of their lives. I saw this quote on Facebook and it rings loud within my spirit: 'A child that's being abused by its parents doesn't stop loving its parents, it stops loving itself,' by Shada Arabi psychalive.org."
The recent sex crime builds on the growing attention on the victimization of young Black girls at the hands of adult predators. "Surviving R. Kelly" has put the issue in the spotlight.
Although there is limited research on sexual assault of women and girls, some statistics indicate that Black girls are sexually assaulted at higher rates. An estimated 1 in 4 girls and 1 in 6 boys are sexually abused before the age of 18, according to the U.S. Department of Justice. Advocacy organization the Black Women's Blueprint reports that 40 to 60 percent of Black women report being subjected to coercive sexual contact by age 18.
More than 20 percent of Black women are raped during their lifetimes—a higher share than among women overall, according to the Center for Disease Control and Prevention. African-American girls and women 12 years old and older experience higher rates of rape and sexual assault than white, Asian and Latina girls and women, according to the DOJ.
For every African-American woman who reports her rape, at least 15 African-American women do not report theirs. Experts believe that Black woman feel a sense of betrayal if they disclose the abuse to people they care about.
The Human Rights Project for Girls, the Georgetown Law Center on Poverty and Inequality and the Ms. Foundation for Women released a report, "The Sexual Abuse to Prison Pipeline: The Girls' Story" detailing the impact of sexual abuse on young girls who end up in the criminal justice system.
Youth of color account for 45 percent of the general youth population, but girls of color, who are approximately half of all youth of color, comprise approximately two-thirds of girls who are incarcerated, according to the report. Incarcerated Black girls experience sexual abuse four times higher than that of boys.