The Baseball Hall of Fame hypocrisy persists with the exclusion of Bonds and Clemens
JAIME C. HARRIS | 1/24/2019, midnight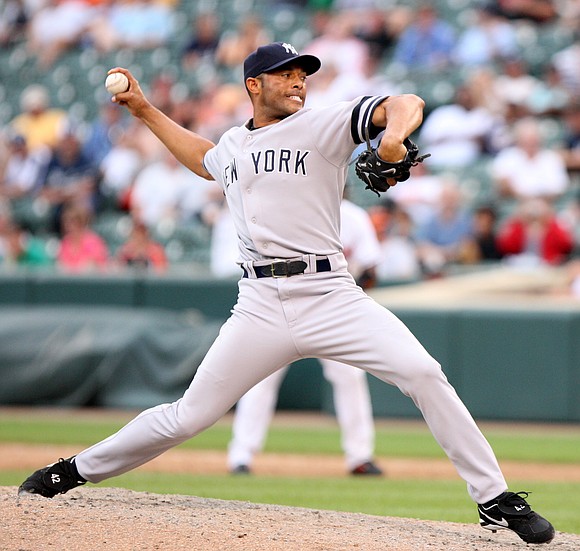 Tuesday, the National Baseball Hall of Fame and Museum announced the Baseball Writers' Association of America's selections for its class of 2019, led by Mariano Rivera, the great New York Yankees closer who became the first player to ever be unanimously elected. Former Yankees pitcher Mike Mussina, pitcher Roy Halladay, who was killed in 2017 at the age of 40 piloting a plane, and Edgar Martinez, a prolific designated hitter for the Seattle Mariners, were also elected.
The 50-year-old Rivera, who pitched for the Yankees from 1995 until his retirement at the conclusion of the 2013 season, amassing a MLB record 652 saves, deservedly was named on all 425 ballots cast. However, the hypocritical ostracizing of Barry Bonds and Roger Clemens persists. In his seventh year on the ballot, Bonds received only 251 votes totaling 59.1 percent. Clemens, also on the ballot for seven years, was accorded 253 votes, appearing on just 59.5 percent of the ballots. Candidates must receive at least 75 percent to be elected.
Bonds and Clemens are inarguably two of the best players in the history of baseball. The former is a 14-time All-Star and seven-time National League MVP. The latter is a 11-time All-Star and seven-time Cy Young Award winner. Their individual greatness is virtually unparalleled. Their use of illegal performance-enhancing substances is Bonds' and Clemens' unpardonable sin in the eyes of many Hall of Fame voters and so-called baseball purists.
There are several reasons previously put forth by this writer in this publication as to why Bonds, Clemens and others alleged to have used steroids should be voted into the Hall. But it cannot be restated enough that if former Major League Baseball commissioner Bud Selig is in the Hall of Fame—he was elected by the Today's Game Era Committee in 2017—so should Bonds and Clemens.
Selig, MLB's acting commissioner from 1992 to 1998 before being named the official commissioner in 1998, serving in that role until January 2015, was the steward of the game during the height of the aptly named Steroid Era of baseball, which is generally viewed as the late 1980s to the late 2000s. Selig was far more an enabler than vocal, unwavering opponent of steroid use. In a December 2016 interview with ESPN.com, he minimized his culpability.
"I talked to a lot of baseball people, over and over and over again," he said. "But you know, by 2000, I moved [to impose testing and suspensions] in the minor leagues, which I could do unilaterally. So that's 15 years ago. So this idea that we didn't do anything just isn't accurate."
It must be emphasized that although steroids were banned by MLB in 1991, league-wide testing for performance-enhancing drugs was not implemented until 2003.
"You know, I've thought about it a hundred times," Selig added "because I'm pretty tough on myself. And I honestly don't know what else I could have done. That's my answer."
What's also at once perplexing and troubling is its almost certain that at least one of the voters that left Bonds and Clemens off their ballot cast a vote for Donald Trump in the 2016 presidential election. How do they reconcile supporting a man who is the epitome of unethical and immoral behavior for the world's most powerful position yet shunning Bonds and Clemens for a symbolic honor? The answer is it's unjustifiable.