Laiona Michelle writes and stars in new Nina Simone play, 'Little Girl Blue'
JORDANNAH ELIZABETH | 1/24/2019, midnight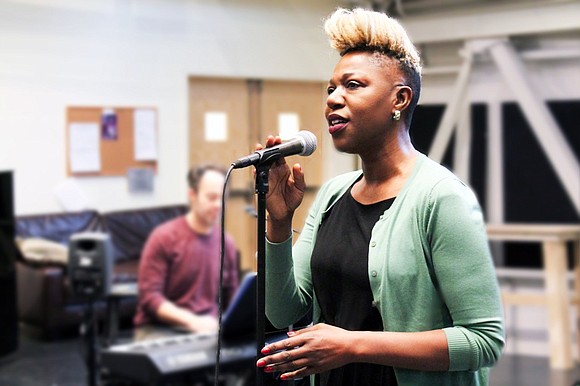 The award-winning actress, singer and writer Laiona Michelle, who has appeared in popular TV shows such as "The Blacklist" (2013) and "Law & Order: Special Victims Unit," also shines as a theater powerhouse, portraying iconic Black women such as Dinah Washington in the play, "Dinah Was," and winning the NAACP Hollywood Award and the Barrymore and Carbonell awards for her performance as Ida B. Wells in "Constant Star" in 2005.
Michelle spoke with the AmNews about "Little Girl Blue," a new play that she wrote and stars in about timeless musician Nina Simone, about Simone's influence in her own life, her journey as an actress in New York City and how she let her Black brilliance shine in a culture that undermines and works to dim the light of determined and talented Black artists.
"Little Girl Blue: The Nina Simone Musical" opens at the George Street Playhouse in New Brunswick, N.J., Jan. 29, 2019 and runs until Feb. 24.
AmNews: When did the first spark, the very first morsel of the idea of "Little Girl Blue" burst from your subconscious to the front your mind?
Michelle: The show is speaking to all the little girl blues out there in the world. The ones that have the desire to do something that may appear to be unreachable. I know when I was a little girl, I was always drawn to Shakespeare. I remember going to see my first Shakespeare play, which was Romeo and Juliet, and I saw that Romeo was a Black male. I was so shocked. I thought, "I didn't know we could talk like that." I thought it seemed so far from me, and I became more attracted to [theater].
When we think about art, oftentimes when you're young it feels like it's unreachable. For Nina, in particular, I picked the title because she always wanted to be known as the first Black classical pianist. She was born a child prodigy, and she recognized [musical] notes as a baby. So, that's all she wanted, and that was one of her biggest heartbreaks. I think the walkaway for this show is for young people to feel, you can have that, too. Art is for everyone. Whether you want to be a ballerina or in opera, art is colorblind. She lived in a time where, it just wasn't like that. I think now, the word "inclusion" is everywhere, which is very important.
I'm talking for all those little blue, Brown, Black girls and boys out there, or whoever identifies with wanting something that seems unreachable.
AmNews: Let's talk about Black brilliance and Black female intellectualism, and how it relates to that fear of exclusion that we've been taught generationally. How did you break free from that feeling of your dreams being unreachable?
Michelle: First of all, I had an incredible family that always instilled in me very high level of competence. I went to Alabama State [University] for my undergraduate degree, but I really wanted to go to Julliard. I coached myself for my audition [for Julliard] and I threw it all out there, and crashed and burned. I didn't get accepted. It was a rough blow for me. I thought about just going to New York to be an artist, and my mom made me pause and said, "No, you've got to go train if you really want to take theater seriously." So, I stubbornly accepted the HBCU book, and I found the first school that said it had theater and that was Alabama State University. That was the only school I applied and went to the program, and met the best of teacher of my whole life, Dr. Tommie Tonea Stewart. She is still my mentor. She really validated me. She worked very hands on with me that I wasn't used to. It was scary. She pushed me hard, recognized my talent and really sharpened my skills.