Shutdown leaves federal workers in peril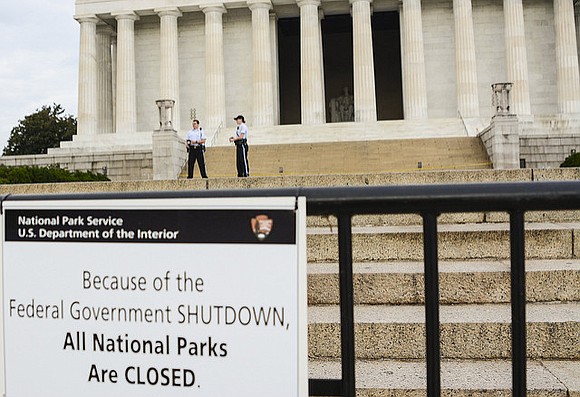 More than 800,000 Americans who keep the government running are on the financial edge because of President Donald Trump.
After one full month since the president shutdown the government, federal workers have resorted to food banks, online fundraising and temporary reprieves on payments to cope with not receiving a paycheck for their work. By the end of this week, the government shutdown will cost just as a much as Trump is demanding for his southern border wall ($5 billion).
"AFGE wants the U.S. Senate to reopen the government as quickly as possible," said Gabriel Pedreira, legislative and political organizer for the American Federation of Government Employees District 2, to the AmNews. "Eight-hundred-thousand workers and their families are currently being held hostage by petty partisan politics. It is time for Leader McConnell to pass the appropriations bills that have already been passed by the House. We can debate immigration and border security at a later date. Bills are piling up for 800,000 workers and their families. The Senate must act now."
In a week when the nation paused to honor the Rev. Dr. Martin Luther King Jr., workers' rights were at the forefront of the conversation. Monday, Food Bank For New York City hosted a Martin Luther King Jr. Day of Service to help federal workers and other New Yorkers in need during the government shutdown. More than 600 volunteers visited the Food Bank For New York City's Community Kitchen and Food Pantry in Harlem and the Food Bank For New York City's Warehouse in the Bronx to prep, cook, serve and distribute 1,500 meals to the community. Volunteers also helped prepare and repack food items to be distributed across the city to families affected by the government shutdown.
This annual Day of Service is known as "Done in a Day for MLK." Both facilities are in areas that face some of the highest rates of food insecurity in all of New York City.
Margarette Purvis, president and CEO of Food Bank For New York City, said that her organization is doing the best that it can to offset the government's (in)action.
"The government shutdown has already meant thousands of federal workers and contractors remain unpaid, disrupting the lives and tightening the daily household budgets of many who are living paycheck-to-paycheck, and could have a tremendous, damaging ripple effect on vulnerable, low-income families who rely on food assistance programs like SNAP, WIC and TEFAP [commodities]," said Purvis in a statement. "While the federal government has assured us that some of these critical survival resources will be fully funded through the end of February, New York City's emergency food network cannot meet the surge in need that will result if the shutdown continues and funding for SNAP and other essential programs runs out."
The government shutdown has gone on for so long that some of Trump's own supporters are starting to blame him for it. A recent survey conducted by NPR/PBS News Hour/Marist University showed that Trump's net approval rating dropped seven points since December. Among suburban men, who tend to be white, his approval ratings dropped by 18 percentage points net.