Andre De Shields talks life, 'Hadestown'
LINDA ARMSRONG | 7/3/2019, 10:47 a.m. | Updated on 7/3/2019, 10:43 a.m.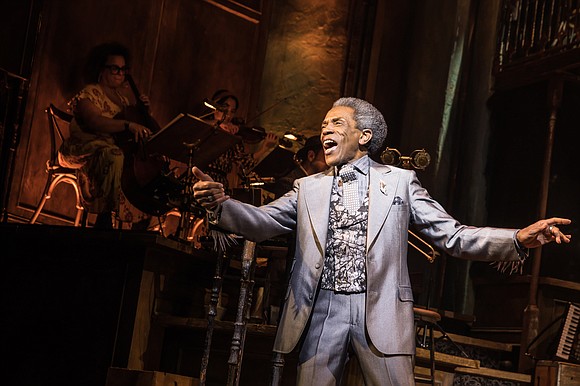 Have you ever felt like you were participating in a historic moment? That's how I felt as I sat in the dressing room of Andre De Shields, the Outer Critics Circle, Drama Desk and Tony Award winner for his portrayal of Hermes in Broadway's "Hadestown," playing at the Walter Kerr Theatre on Manhattan's W. 48th Street. De Shields' cozy dressing room is filled with lovely flowers—even lotus flowers. De Shields, pointing out the flowers, remarks, "Hermes botanical gardens, these are all expressions of love from people who were personally invested in me winning that Tony."
I've known and interviewed De Shields many times over the years and what I've always been able to appreciate about Andre is that he speaks so beautifully and clearly, carefully chooses every word he utters. He is someone who always speaks from the heart; you know when he speaks he is telling you his full truth and you can respect his candor. I've never known anyone like Andre De Shields. He is a consummate professional on stage who completely embodies his character and is dedicated to his craft. I so looked forward to the opportunity to interview him, and am thrilled that during his 50th year in the business and at the age of 73 he has won his first Tony. And it seems this is a magical year and a magical role, as it has also earned him the Drama Desk and Outer Critics Circle Awards as well. De Shields is not just a phenomenal performer, but also a very educated and giving man. He gives of his knowledge, his time and his life experiences, and was truly put on this earth to stand out and demonstrate what many forms beauty can take. Beauty of performance, beauty of the soul, beauty of love of the craft and a level of sophistication, common sense, patience and civility that is a feat to master.
Andre has taken decades to establish his style on Broadway from musicals like "The Wiz," "The Full Monty," "Ain't Misbehavin'," and "Play On," and anyone who has seen him on the stage has witnessed flawless, intense and engrossing performances, one after the other. De Shields is the embodiment of consistency and never disappoints the audience. Sitting in his dressing room between performances he talked about this role of Hermes, his process, his family, his nature.
On getting the Tony, Drama Desk and Outer Critics Circle Award for Hermes in "Hadestown," De Shields said, "It took a minute to get there. I had spoken to that in part by what I said when I accepted the Tony. Slowly is the fastest way to get to where you want to be. We've known each other for many years and I think you know me well enough to understand that my modus operandi, my method, my technique is very measured—it's deliberate. I believe differently from most people. Most people say life is short. I believe life is long. Which is why I take it very seriously and how one believes is how one receives from the universe. So, if I were in a hurry, I might have gotten the Tony for 'The Wiz', but then I would have been off my destined path."