Andre De Shields talks life, 'Hadestown'
LINDA ARMSRONG | 7/3/2019, 10:47 a.m. | Updated on 7/3/2019, 10:43 a.m.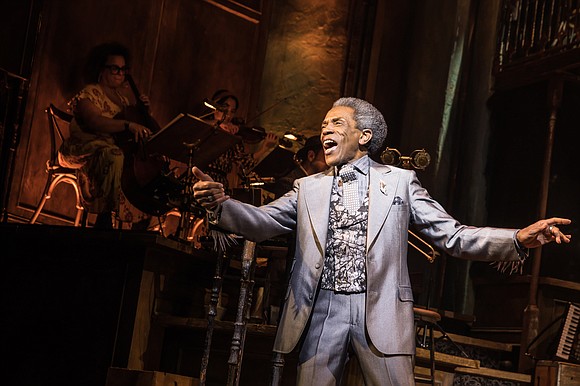 Why does De Shields do what he does? "Do it for the art, the idea is that simple. And if you do it for the art, you'll get done what you're supposed to be doing. I learned from Sammy Davis Jr. who said, 'every entertainer'—and who's a greater entertainer than Sammy Davis Jr. —'every entertainer has two contracts, one with his employer and one with his public.' You can always get another employer. Meaning that one has to embrace his public as sacred. They come to the theater; they come to the temple where the healing happens. You've seen the show, so you know it ends with a communion and everyone stays for the communion and stands for the communion. When that congregation leaves, we have had a sacred two and half hours together," De Shields reflected.
Responding to how he became who he is De Shields shared, "You have just hit on one of my rules to live by and I don't try to convert anyone. But just as they say if you see something, say something. I say if you know something, share something. So, I don't give advice, but I do tell people what I have experienced. Here's the lesson, here's the rule and I'm speaking to whatever individual is going to read the words you're going to transcribe, 'There is no one like you. There has never been anyone like you. And there shall never be anyone like you. Therefore, know thyself, be thyself.'"
De Shields continued, "I have a contract with myself that I make on a daily basis. Everyone gets up and has some kind of ritual. I look in the mirror and I speak to the person who is looking back at me and I say, 'I will always love you; I will never forsake you. I will do with you what the spring does to the cherry trees. I will cause you to blossom. I believe that one of the necessary elements to live a long and happy life is beauty. Beauty is one of the elements like water, fire, air, earth—beauty. That's what keeps us strong, optimistic, that's what keeps us looking forward to the next day, the discovery of beauty," De Shields explained.
Ninth of 11 children, De Shields' parents were Mary Elizabeth Gunther who cleaned homes and took care of other people's children, and John Edward De Shields, a self-taught tailor. Sharing his family history, De Shields explained that his heritage is Scots-Irish indentured servants and enslaved Blacks. "Samuel Shields was an indentured servant on a French plantation. He took as his concubine a slave named Dulci, so he owned her. He took on the practice of putting De, which in French means property of and called her Dulci De Shields. She had two sons, James and John. I come from the John branch. That's why it's so very important for us African-Americans to know who we are. During the Middle Passage when the Africans were kidnapped, some of them were royalty, so here's my belief. I descend from some African king that they captured and turned into a slave. That's the only way I can explain the way I am. It's not cosmetic; it's not manufactured. I'm authentic."