Talking SCHOP! A birthday first in Canada, Part III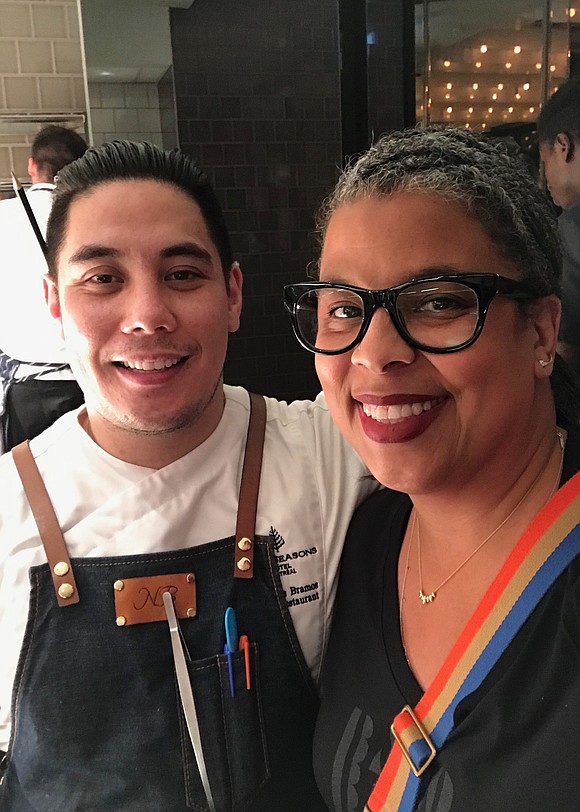 May 25, 2019. Day two in Montreal, on my first time in Canada and it was my birthday! My travel partner and ace, Jason Carey, went out to get us iced coffee and almond croissants from @SecondCupCanada…at my suggestion, some might say insistence. Either way it set us right to get out on MY day!
We decided to head to Old Montreal, first walking through the Latin Quarter as they were setting up for a street fair. There was also a brief but fruitful marché through the gift shop of BAnQ (Library and National Archives of Quebec), the proprietor luring us in for fabulous Canadian food history souvenirs.
Reaching the end of St. Denis Street and moving into Old Montreal, we felt like we stepped right into Europe. The old buildings and the colorful Vespas lining the streets, the cobblestones and the French conversations bouncing off the facades.
We strolled around to get the feel of the seaside area that reminded me a little of Pier 17 and South Street Seaport with the masses of tourists. Just our luck there was even a cluster of food trucks serving local Canadian fare. I resisted because I wanted a boozy afternoon moment dining al fresco with a libation in hand.
Again, the weather was less than bueno, but we did not let it get to us and found a great table at Italian eatery, Jacopo, just inside with a view of Place Jacques-Cartier square. Two rounds of Aperol spritz with the best fried calamari, charcuterie plate and shaved fennel salad, we were sated for more shopping and the walk home.
We made it back to the flat to shower and chill before heading to the metro for our dinner reservation. Jason and I were immediately taken with the open train format of the metro, of which NYC is eyeing. When the train takes off there is a rush of wind through the entire train that is so calming. (Jason and I even extended our trip back to the flat riding past our stop on the way home.)
A brief walk from the metro stop and we arrived at our location, restaurateur Marcus Samuelsson's newest opening, Marcus, at The Four Seasons Montreal. Had Jason and I left just one day earlier, we would have been at the opening party, but by the time I left this restaurant, I felt like was there.
Full disclosure, Marcus knew I was coming, it was my birthday and the celebration included my first time as associate producer of Harlem EatUp! All I expected was a reservation, but the team there gave me so much more beginning with knowing my name and offering a "Happy birthday."
Taking in the gorgeous modern designed space with white marble, brass and leather touches, lush greenery, thoughtful lighting and eclectic soulful music from the live, and dapperly dressed, deejay, set us in the right mood immediately. Our table was perched on the upper level with a perfect view of the whole space.