Talking SCHOP! A birthday first in Canada, Part III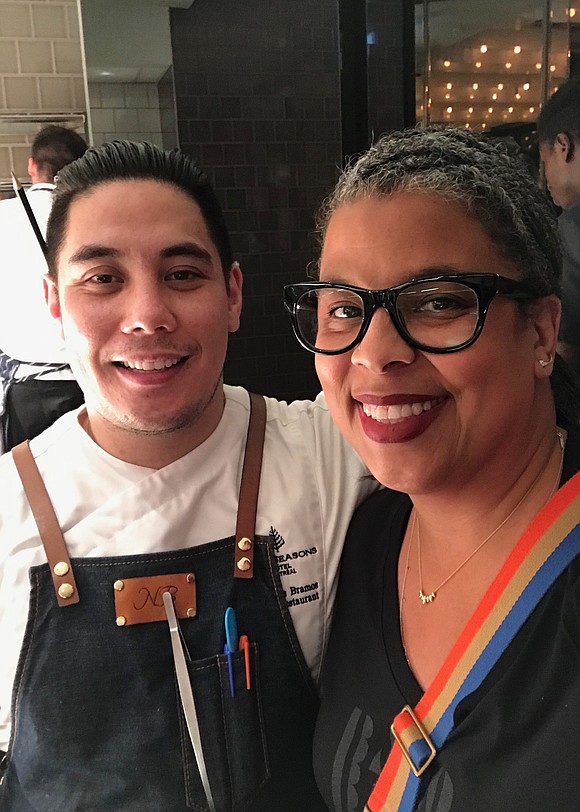 Before anything, Marcus sent over two glasses of champagne as our eyes bounced over the fish, seafood and vegetable forward menu. Jason and I decided on our entrees of spicy crab pasta and trout, but then here comes a whole raw bar platter of seafood presented by the Chef de Cuisine, Nicholas Bramos, replete with Marcus' signature sparklers. Who needs a birthday cake when you have a platter of sashimi, crudo and seafood? Not me!
As the sparkers were lit and Jason led the birthday song, I began to well up with emotion. Yes, it was my birthday, my last year in my forties, but professionally I felt recognized for all of my hard work in food for the last 17 entrepreneurial years—cooking, writing, consulting, producing and so much more.
I am grateful for this journey and all my family, friends and colleagues on it with me. Cheers to you and yours.
Canada…thank you. I will be back.
Happy eating and thanks for reading!
Kysha Harris is a food writer and editor, culinary producer, consultant and owner of SCHOP!, a personalized food service in NYC for over 15 years. Follow her on Twitter and Instagram, @SCHOPgirl, on Facebook, /SCHOPnyc, and her blog, www.talkingSCHOP.wordpress.com. Questions? Comments? Requests? Feedback? Invitations! Email AmNewsFOOD at AmNewsFOOD@SCHOPnyc.com. Follow us on Instagram, Twitter and Facebook @NYAmNewsFOOD and tag us with #SoAmNewsFOOD with your food finds!