25 Years of ESSENCE Fest culminates in a legacy of firsts
JEANETTE TOOMER | 7/11/2019, 12:56 p.m.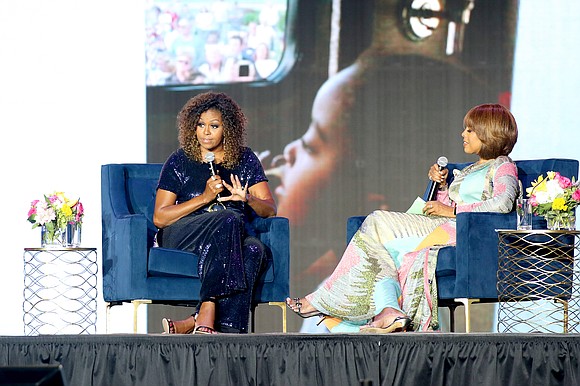 New Orleans, LA—On the 25th anniversary of ESSENCE magazine's yearly festival, founder Edward Lewis recalled that the event was created as a celebration. Lewis explained in a short address to a packed audience at the Superdome that by creating the festival the magazine gave birth to the mega event conference and three night concert series known as the ESSENCE Music Festival. Michelle Eubanks and ESSENCE magazine founder Richelle Dennis also presented the ESSENCE Honors awards to then Mayor Mark Morial who agreed to host the event in New Orleans.
Now another 25 years later the ESSENCE Festival has sold out the Superdome, as it did several times before when Prince and Beyoncé brought down the house—and as it did this past Saturday with Michelle Obama. The "forever" first lady Michelle Obama chatted with interviewer and CBS anchor, Gayle King, about her marriage and family.
Earlier that same day Democratic presidential hopefuls addressed a large audience of Black women and voters on the Powerstage at the Morial Convention Center. Michael Bennett, Bill DeBlasio, Kamala Harris, Elizabeth Warren, Corey Booker and Beto O'Rourke explained why they were vying for the president's office. They delivered their plans to right discriminatory policies in housing, employment and criminal justice. Harris cited the Black Census Project report that had documented wide discrepancies in wealth and wages between Blacks and whites. Harris reported that, "For every dollar that a white man earns, a Black woman earns 61 cents." The senator from California also explained her plan to give an economic boost to Blacks by dismantling racist redlining practices in homeownership and by creating additional funding for historically Black colleges and universities.
Warren and Harris underscored the need to protect women's reproductive health rights. Harris predicted that Black and poor women would die if states, like Alabama, continue to curtail and to criminalize the option for women to choose abortion.
At the Superdome the Friday night series of concerts honored artists who have passed on but lent their fame and support in previous performances at the ESSENCE Fest. It included Grammy Award winners Ledisi reviving Aretha Franklin's "Respect," Sheila E. with "Glamorous Life" and H.E.R. playing dynamic riffs from Prince's "Purple Rain" on her guitar. Patti Labelle sang newly reformatted RBRM (Ronnie, Bobby, Ricky & Mike); she reprised their hits from the 1980s including "My Prerogative" and "I Apologize" among others. After the concert patrons headed to ESSENCE's new "After Dark" club series to enjoy fascinating high-powered performances by women in hip-hop: MC Lyte, Yo-Yo, and newcomers Rapsody and MuMu Fresh with DJ Jermaine serving up non-stop hard-driving beats and rap hits.
Popular rap star, Missy Elliott, lit up the Dome's stage with an army of dancers and performances of her hits, "I Can't Stand the Rain/Supa Dupa Fly," and "Work It" among others. At one point she led her dancing corps offstage into the audience which prompted loud applause from the crowd.
On Saturday night legendary rapper Nas said, "Let's go back to cassette tape days—1993" as he stood and delivered his popular "The World is Yours." He rapped one hit after another without a corps of dancers and held the audience enraptured. The incomparable, Mary J. Blige, followed and did not disappoint in a set rich with her classics, "My Life," "Fine," "No More Drama" and "Love Without a Limit."