25 Years of ESSENCE Fest culminates in a legacy of firsts
JEANETTE TOOMER | 7/11/2019, 12:56 p.m.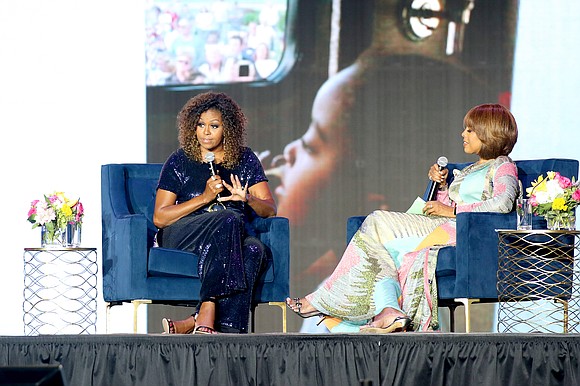 On Sunday night Teddy Riley brought Blackstreet, Timbaland, Pharrell Williams, Doug E. Fresh and Wyclef Jean to the mainstage. Jean launched into a rousing Haitian Carnival song and jumped into the audience to sing and dance with fans. Surprisingly, he did a handstand in the aisle that wowed the crowd before returning to the stage.
Sunday night's lineup also boasted a tribute to Frankie Beverly of Maze. The mayor of New Orleans, Latoya Cantrell, and Eubanks presented a proclamation and the key to the city to Beverly for his 15 years of ESSENCE Fest concerts.
The ESSENCE Fest has grown into a mega event with E-suite business panels at the Contemporary Arts Camp, a Health and Wellness series and the After Dark late night programs at various venues in the city. There were additional charges for these events. However, back at the Convention Center, every day all sessions are free from the Beauty Carnival interviews with designer Dapper Dan to the Disney slate of previews of the new Star Wars to the Currency Connections with Chase and ESSENCE and the State Farm exhibits and McDonald's and Walmart free giveaways.
Here's to another 25. Next year ESSENCE magazine celebrates its 50th anniversary of publication. On Saturday Sen. Maxine Waters pointed out in her keynote address, "This is our Time," that with more Black women than ever before holding public office across America and successful in business, in spite of Trump we must forge ahead. With Richelieu Dennis as the new Black owner of ESSENCE magazine awarding checks from $5,000 to $25,000 to Black women who won his funding in a business pitch competition, who knows how bright and expansive the next celebratory idea will be.