Countdown clock on Garner: Family, activists trek to DC to demand DOJ action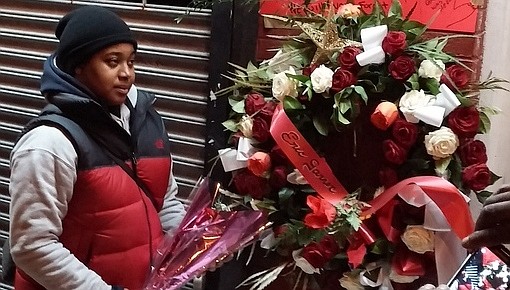 If the amount of worn shoe leather was any indication of how the people in New York City felt about the on-camera death of Eric Garner, according to grassroots activists who fought for justice in this July 2014 case, then officer Daniel Pantaleo should have been arrested on sight.
As it is—five years later—his mom Gwen Carr and dozens of others are heading down to Washington, D.C. on Monday, July 15, to demand that the Department of Justice take action two days before the statute runs out.
"The Justice Department seems to be at a stand still," said Gwen Carr. "It seems like they waiting for the statute to run out. After the Trump administration took over we have gotten no movement. Zero. And we were supposed to hear something at year's end two years ago. And we have heard absolutely nothing from the DOJ in two years."
On Wednesday, July 10, activists and community from the First Central
Baptist Church met in Staten Island, Garner's hometown, to organize the Eric Garner Had a Right to Life Rally on July 15 in Washington, D.C.
As they made preparations for the NYC to DC rally the organizers stated, "Your support is crucial as we continue planning and then rally on Monday to demand justice for Eric Garner."
Meanwhile, the city awaits the outcome of the June disciplinary case prosecuted by the Civilian Complaint Review Board at 1 Police Plaza in Lower Manhattan. Pantaleo did not testify on his own behalf; excerpts from an Internal Affairs report were read instead by his lawyer Stuart London. The police attorney stated that his client had not used a banned chokehold on Garner on July 17, 2014, as widely and consistently reported, but was merely "trying to bring him down to the ground," applying a "seatbelt" maneuver.
When it became known that Pantaleo would not be speaking, the DOJ's federal prosecutor Elizabeth Geddes got up and left the court room.
Carr's press spokesman at the time, Dan Morris from Progressive Cities, stated, "In 2014, Pantaleo killed Eric Garner with a chokehold that has been banned by the NYPD for over two decades. Ms. Carr is calling on the NYPD to fire not only Pantaleo but all other officers responsible for misconduct related to the killing of Eric Garner and attempts to cover it up."
The police version was that Garner had been selling cigarettes on a Staten Island street when they approached him. Other folks say he was actually breaking up a fight when they decided to confront him.
"It has been a long and rugged journey," said Carr. "But, I said that I am going to continue this fight—if I don't stand up, hold up my son's name, speak out, who will? Even though we did not get an indictment, which was an insult to injury, I fought to get the departmental hearing, because the NYPD was not going to do anything. I fought to get the CCRB meeting. They fought me every step of the way. The DeBlasio administration fought me for five years—all I got were disruptions and him blocking everything I tried to do."