Countdown clock on Garner: Family, activists trek to DC to demand DOJ action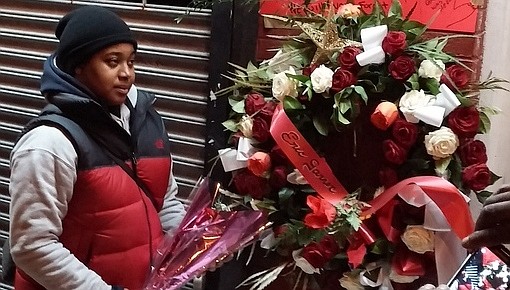 While the NYPD responded to a request for a comment on the police department hearing with, "There are no updates," the Department of Justice did not respond by press time.
The grassroots push to make then Attorney General Loretta Lynch take the case came after then Staten Island D.A. Daniel Donovan refused to indict Pantaleo.
During that time with the not-concluded NYPD internal investigation ongoing, the then Police Commissioner Bill Bratton and Mayor Bill de Blasio refused to release the details of any NYPD findings in the internal investigation.
The year 2014 saw massive anti-police-violence demonstrations across the nation for Mike Brown from St. Louis, Tamir Rice from Ohio, Ron Singleton from New York, Tanisha Anderson from Cleveland, and Jerame Reid from New Jersey.
New York for Eric Garner was no different.
Ramsey Orta caught Garner begging for his life on his cellphone—and his "I can't breathe" plea to arresting officers became an international refrain and symbolic quote worldwide.
Orta found himself arrested several times thereafter on a number of charges, and was ultimately sentenced to four years in prison on an unrelated gun charge.
The Garner killing was added to a list often quoted by activists, who determined families of victims did not see justice. Names include Eleanor Bumpurs, Anthony Baez, Nicholas Heyward Jr., Randy Evans, Timothy Stansbury, Ouseman Zongo, John Callado, Amadou Diallo, Mohamed Bah, Deborah Danner, Saheed Vassell, Malcolm Ferguson, Delrawn Small, Ramarley Graham, Sean Bell, Shantel Davies, and Akai Gurley.
"I feel like no matter who 'investigates' the murder of my father no one will go to jail in the end," Eric Garner's daughter Erica said in 2016. "I use Freddie Gray, Tamir Rice, and Mike Brown as my examples."
The now deceased advocate for her father was speaking as news broke on Tuesday, Oct. 25, 2016, that President Barack Obama's administration's Department of Justice was looking to indict Pantaleo.
"I'm glad to see Attorney General Lynch is fighting for what is clearly justice, but this problem is bigger than her. Until there is full transparency, accountability and an end to the 13th Amendment, Black lives will continue to be worthless in the eyes of the law. I think that Mayor de Blasio should fire Daniel Pantaleo immediately. He won't do that because he is an active participant of this cover-up. It is so sad to see the mayor give lip service to families like mine, Amadou Diallo's or Deborah Danner's, and then tap dance for Pat Lynch and the police union. When I heard his son say that this de Blasio would end the stop and frisk era of policing, I believed him. We see what it looks like in reality…More of the same. I heard the lip service that the mayor gave the public concerning the new commissioner, let's just say so far I'm unimpressed."
Erica, a mother of an at the time 4-month-old and a 7-year-old, died from a heart attack Dec. 30, 2017.
Saying that this young fighter simply just "never recovered from when her father died," Carr said, "She was very, very adamant about trying to get justice for her father, and I think with all the stress that contributed to her having such an early death."