Horoscopes with Ashley's Aquarian Age, July 11 - July 17
Ashley Brockington | 7/11/2019, 3:31 p.m.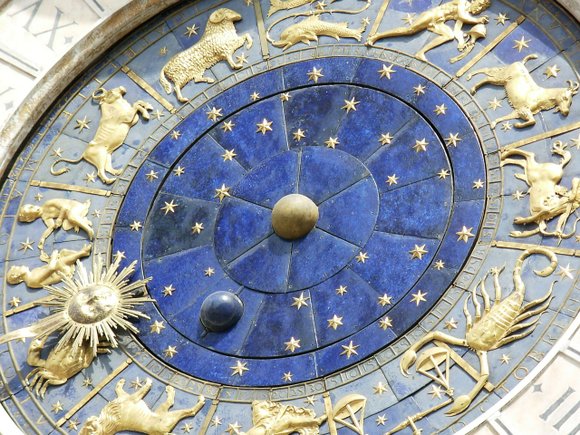 For most of the week the Sun, our will and our consciousness, is sitting in opposition to Saturn, the disciplinarian and stern life-lesson giver. Oppositions suggest the dynamic between the two planets will play out between you and another. The Sun has you wanting to spread your wings and discover who you are and what you can do. Saturn clips wings and tells you that you must walk before you fly. Saturn is a buzzkill and slows things down. So this week, we contemplate where we feel stagnation. Venus joins the pity party for the weekend. So, solitude is a factor as well. See what areas of your life are affected by these planets.
Aries: You might actually be feeling sensitive this week, Aries. Memories of the past are resurfacing as a metaphor for what is unresolved. Be easy on yourself this week as you experience waves of vulnerability that are very difficult for fiery Aries to hold in its body. Unfortunately, you may be feeling crunched for time to dedicate to yourself underneath the pressures of work. Make time. Draw a clear boundary between work life and home life.
Taurus: You are going to love my advice for you this week, Taurus. Stay close to home this week. Your happy place is within the confines of your own neighborhood. We know this isn't a stretch for you, comfort seeker. Venturing too far from home, you run the risk of running into folks drinking tall, iced glasses of Hater-aid. Travel this week brings debate. Build from your garden, your castle. Bring energy to the cultivation of your plans. Study your action plan for attaining your next goal.
Gemini: This week you are not so much your social self. Allow yourself to pull away from others. You may feel like getting lost in your work. Who are you trying to avoid? If you have business partnerships, there could be a power struggle that erupts over some disagreements that you are having regarding funds. Take the time to be extra clear in your business dealings. The Mercury retrograde can wreak havoc when trying to clearly exchange ideas with another.
Cancer: This week, Saturn is working through your relationships. The good news is that one of the blessings of Saturn is longevity. Saturn helps relationships endure and builds an inextricable foundation that will be supportive for years. You may be feeling lonely even if you are in a relationship. Words go unspoken. There is emotional distance felt even though the pets/kids are getting fed and the bills are getting paid. Make an effort to nurture your sweetie even if you don't really want to. Consider separate va/staycations.
Leo: This week, walk very delicately around the folks at work. Miscommunications are imminent with Mercury moving in reverse this week. And feeling stressed out at work can have you feeling stressed out in the body. Stiff and maybe constipated. Think hydration. You need to bring the energy of flow into yourself. Allow and try not to fight others or yourself. If you can afford an annual check up or dentist visit, go ahead and make an appointment.