Outside of the limelight, Anguilla still a shining star
Sheryl Nance-Nash | 7/11/2019, 11:15 a.m.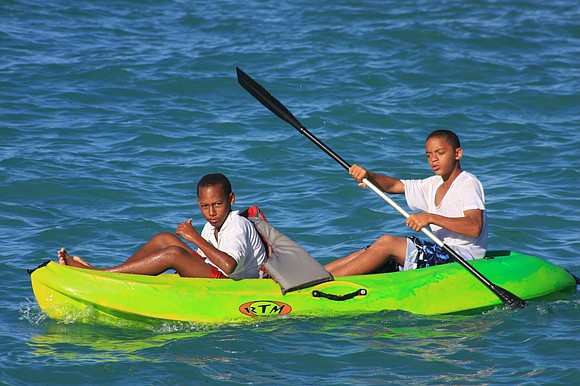 Just because something's not in the limelight doesn't mean it shouldn't be. While places in the Caribbean like Jamaica, Cuba, Puerto Rico and the Bahamas capture the travelogue headlines, the tiny island of Anguilla holds its own with the best of the Carib hot spots.
The more than 14,000 people who call Anguilla home are a hearty bunch, having fought back to rebuild after hurricane Irma destroyed homes, restaurants, hotels and much else in its path in 2017. As much as they are resilient, they are warm and welcoming, and eager to share their culture with others. That culture is pretty special. No one is a stranger. After all, this is a place that has a tradition of "jollification," which put simply means people coming together to achieve a goal, like neighbors helping to build a house or plant a field. No money is exchanged but there is food, drink and music. Community is a priority and another abiding principle of Anguillans is simple, R&R. It starts with the more than 30 beaches and 12 miles of that pearly white powdery sand. Locals will tell you Shoal Bay has the whitest sand on the planet. The water sparkles in shades of turquoise and brilliant blues. The sound of the waves is a sedative. You may fall asleep in that lounge chair or cabana with all that tranquility wrapped in blue.
But you'll be just as happy if you're into water sports. Kayak, paddle board, parasail, snorkel, scuba dive. Late last year the Anguilla National Trust and the Department of Fisheries and Marine Resources officially opened the Little Bay Snorkel and Dive Trail. This is no ordinary trail. The 100-metre trail runs parallel to the bay's cliff line. But the big draw is the more than 40 underwater miniature houses. Be ready to feast your eyes on parrotfish, grouper, octopus, eel and other sea life. You can DIY or take a guided tour. If you prefer to look at the water instead of being in it, there are fishing trips and sailing excursions. For sure, Anguillans are big on boats. Boat racing is the national sport. Bike racing is a favorite too.
While Anguilla is wildly romantic, if you want to bring the kids along, you have plentiful family options. There's Aqua Park, best described as an obstacle course in water. Then there's horseback riding on the beach and in the water. Give them IG worthy experiences to show off, but more importantly to remember for years to come as a great family moment. Magic City is an indoor playground that has an obstacle course, arcades, a pool and water slides. There's free Wi-Fi and
a restaurant.
Anguilla is known as a luxury destination spot, so when it comes to health and wellness, you won't have any trouble finding a fab hotel spa. Treat yourself. What's also abundant is great cuisine. Whether you want to go fine dining or to local around the way spots, you'll be sated either way. Some names that pop up as favorites include Sharky's, Straw Hat, Kens BBQ, Blanchard's Beach Shack and Veya restaurant. You must have the much-beloved-by-locals rice and peas and red snapper. Part of the secret to Anguilla's cuisine is the chefs. While quite few are local, many trained in the U.S., France and elsewhere in Europe. When the island is slow in the summer, chefs will go off to Europe for training and sommeliers to California for additional knowledge.