Sustainable eating made easy
7/11/2019, 6:51 p.m.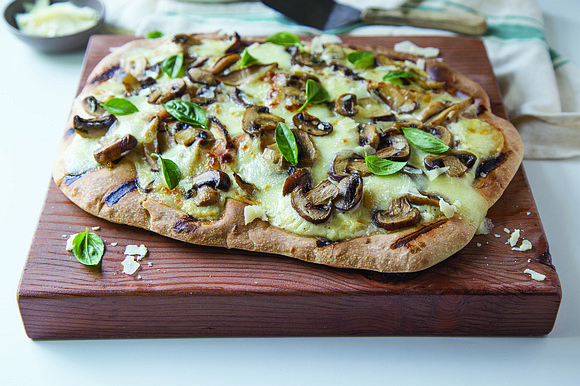 1/4 teaspoon ground black pepper
2 tablespoons extra-virgin olive oil
3 ounces crimini mushrooms, sliced
3 ounces shiitake mushrooms, stemmed and sliced
3 ounces white button mushrooms, sliced
1 ounce dry white wine or chicken stock
1/4 teaspoon fine sea salt
pizza dough (14 inches)
olive oil
nonstick cooking spray
4 ounces whole milk mozzarella cheese, chopped
shaved Parmesan, for garnish
basil leaves, for garnish
Heat grill to medium-high heat, about 425 F.
To make sauce: In medium skillet over medium-high heat, melt butter. Whisk in garlic and basil; cook 1 minute. Sprinkle in flour while quickly whisking to form paste.
Reduce heat to medium. Slowly pour in half-and-half while continuing to whisk until there are no clumps. Increase heat slightly to bring to simmer. Stir as mixture thickens into sauce, about 1 minute. Remove from heat. Stir in Parmesan cheese, salt and pepper; set aside.
In large skillet over medium-high heat, heat olive oil. Add mushrooms and cook until they begin to turn tender, about 2 minutes. Carefully pour in wine or stock and continue cooking until liquid evaporates, about 1 minute. Sprinkle with salt.
Stretch dough to make 14-inch pizza. Brush grill grates generously with olive oil. Place dough on grill and let cook about 3 minutes, until underside is browned and dough removes easily from grill. While removing dough from grill, flip it onto baking sheet sprayed with nonstick cooking spray so cooked side is up.
Spread sauce over pizza and evenly cover in mushrooms. Add mozzarella cheese.
Return pizza to grill, topping-side up. Close lid and let cook 3-5 minutes. Once top crust browns and cheese melts and bubbles, remove from grill. Let rest 2-3 minutes.
Garnish with Parmesan and basil leaves; slice to serve.