The David Dinkins Tennis Club begins another summer season
7/18/2019, 2:18 p.m.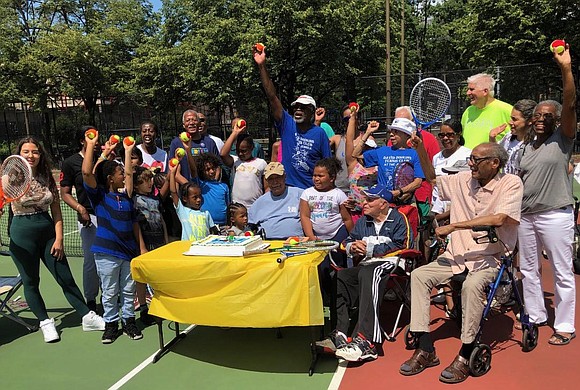 By VINCENT DAVIS
Special to the AmNews
The David Dinkins Tennis Club, named after beloved former New York City mayor, the Hon. David Dinkins, began another summer season this Saturday, providing free tennis lessons for young children and their parents interested in learning the game and further developing their skills. Program Director Sam Penceal encourages the participation of parents of each student athlete "so that they can properly practice at other times."
He explained, "It helps them better understand how to assist their kids when they're working with them on their own."
The Dinkins Tennis Club also features a reading clinic. It's a fun, friendly, family environment.
As always, opening day features a birthday celebration and cake for the mayor who was there celebrating his 92nd.
"I am honored that my friend, Sam Penceal, encourages tennis and education in the community, and remembers my birthday," Dinkins graciously stated. "He is truly an incredible person to do this for our children."
With the recent success of Cori "Coco" Gauff at Wimbledon earlier this month, Naomi Osaka's U.S. Open win last summer and Sloane Stevens' Open win in 2017, new young fans now have more influences in addition to the Williams Sisters, Venus and Serena.
Dinkins Tennis Club workouts take place on Saturday mornings from 9 a.m. to 11 a.m. for student athletes 10 years of age and under at Fred Johnson Park on Seventh Avenue, West 150th Street in Harlem. All are welcomed.
The Johnson courts is where tennis greats Althea Gibson, Arthur Ashe and James Blake once played. The program runs until Aug. 17. Equipment is provided free of charge for those who may need it.
Participants must wear sneakers. It's important to get there early to take advantage of everything that the program offers. Volunteers and book donations are also welcomed.