Dr. Colin A. Palmer, pre-eminent scholar of the African Diaspora
Herb Boyd | 7/18/2019, 2:05 p.m.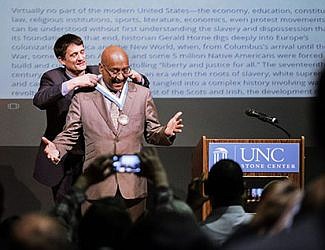 Two African-American authorities on the history of Blacks in Mexico died within several weeks of each other. On June 20, Dr. Colin Palmer, whose book "Slaves of the White God: Blacks in Mexico, 1570-1650" established him not only as a leading historian on Blacks in Mexico but secured his place among those studying the African Diaspora, passed away. And last week, we learned that Lamont Muhammad, a local journalist who ventured to Mexico, had also joined the ancestors. Information about his passing is still coming in and later we will submit a longer obituary on the talented writer.
Dr. Palmer was 75 and began his ascent up the academic and intellectual ladder in the 1970s when Black Studies was being popularized. He joined the hundreds of activists and teachers who took on the mantle of Black Power and began influencing a generation of young followers, both inside and outside the classroom.
He was born Colin Alphonsous Palmer on March 23, 1944, in Lambs River, Jamaica. His father, Cecil, was an assistant superintendent of public works for Westmoreland, Jamaica, and his mother, Gladys, was the hometown postmistress.
In 1964, Colin earned a bachelor's degree at the University College of the West Indies at Mona Heights in his native country. He had begun teaching secondary school when the University of Wisconsin offered him a graduate scholarship on a study he had started on a "comparative tropical history program." Two years later he completed his master's degree and in 1970 his Ph.D. in history from the university. His dissertation topic was the source of his first book on Blacks in Mexico, which he finished after overcoming a mountain of misinformation.
At the beginning of his research he was told that he was on "a wild goose chase," that Mexico had never imported slaves from Africa and that the "nation's peoples of African descent were relatively recent arrivals." Of course, Professor Palmer gave little heed to these conclusions, many of which had been disapproved by earlier scholars such as Ivan Van Sertima in his book "They Came Before Columbus" that was published almost simultaneously with his study. Several other Black scholars, including Kofi Wangara (Harold Lawrence) and a few prominent white historians had presented prior evidence of the African presence in Mexico and other parts of the New World.
Even so, as Professor Palmer focused his attention on Blacks in Mexico his research gradually began to draw a larger circumference on the African diaspora, particularly in Latin America and the Caribbean. "To study early humankind is, in effect, to study this diaspora," he wrote in the magazine Perspectives on History, although he acknowledged that "some scholars may argue, with considerable merit, that this early African exodus is so different in character from later movements and settlements that it should not be seen as constituting a phase of the diasporic process."
While his book on Mexico was generally praised, especially for his usage of primary documents and statistics, it was critiqued for lacking any new revelations on the free Black population in Mexico. Such admonishments were secondary to one of his propositions that Bantu-speaking peoples migrated to other parts of Africa and to India. The Atlantic Slave Trade, however, was among the key factors in his overall research.