'Our Lives Don't Matter': Eric Garner's family demands justice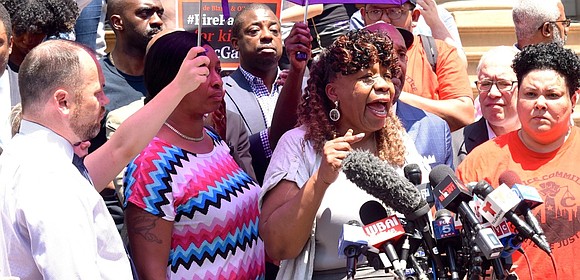 "My son's death is not going in vain. We are going to fight this to the last straw if I'm the only one out on the street."
The mother of Eric Garner, Gwen Carr, was heartbroken to find out through the media that the officers involved in her son's 2014 death would not face any federal charges. She learned of the news as she was on her way to meet with the U.S. Attorney for the Eastern District of New York Richard P. Donoghue.
According to attorney Michael Hardy of the Rev. Al Sharpton's National Action Network, those in the room during the meeting included Garner's widow Esaw Snipes, his daughter Emerald and son Eric. Sharpton was also in the room along with the family's attorney, Jonathan Moore.
Donoghue was in the room with some of his associates and offered his condolences, which were rejected by Emerald. He then confirmed what had been reported in the media—that his office was not going to charge any of the NYPD officers, most notably Daniel Pantaleo, who killed Garner by putting him in a chokehold.
Emerald walked out in anger.
"We don't need your apology or sympathy," she said. "You refused to find justice for my father."
The moment set off a full day of outrage that's sure to extend into the coming weeks as Garner's family vows not to end their quest for justice.
It was five years ago this week that Garner was killed by NYPD officers during an arrest for allegedly selling untaxed cigarettes in Staten Island. Pantaleo put him in what appeared to be a prohibited chokehold. The incident was caught on cellphone video, on which Garner can be heard saying, "I can't breathe" 11 times. The city medical examiner at the time ruled Garner's death a homicide.
Hardy said that although the family is disappointed in the Department of Justice's decision, they feel empowered.
"The family is doing well," he said. "They have been so empowered that they want to be part of the solution here and not have this happen again in the future. The family is encouraged. The primary issue is the decision on Pantaleo and whatever needs to be done to expedite that. If there was ever a family that has been denied justice, it's this family."
Over the past five years, Garner's case has been before three U.S. attorneys for the Eastern District of New York, four U.S. attorney generals and two U.S. presidents. Justice was denied at the local level when a Richmond County grand jury decided not to indict Pantaleo.
Pantaleo is currently in an NYPD departmental hearing to determine if he'll keep his badge; his fate will be decided by the end of the month. Civilian Complaint Review Board Chair Fred Davie said in a statement that the Justice's Department decision should have no impact on Pantaleo's departmental hearing.
"Our last hope for justice in this case lies with the Police Commissioner. CCRB prosecutors presented evidence at trial that showed—unequivocally—that Officer Pantaleo engaged in misconduct worthy of termination. The evidence directly contradicts the statements made earlier today by the United States Attorney for the Eastern District."