Jazzmobile, Blue Swamini, Settepani, Persip at 90
Ron Scott | 7/25/2019, 12:34 p.m.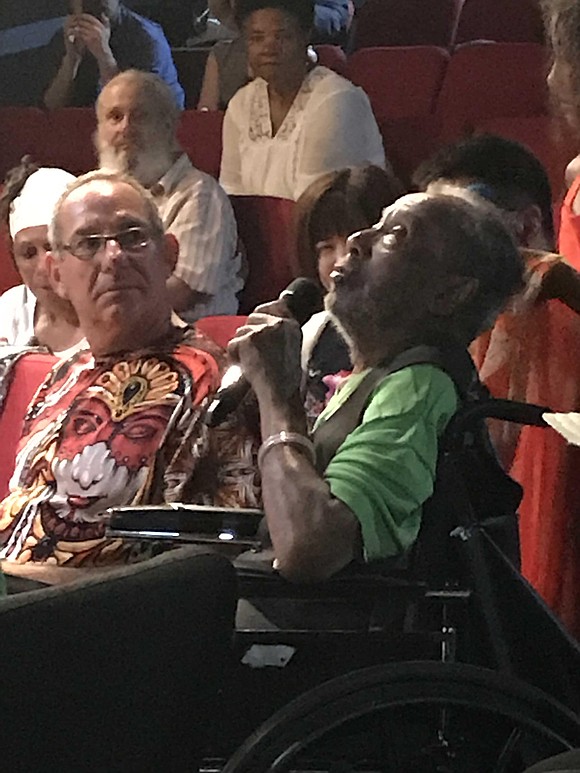 These opening weeks for Jazzmobile are a testimony to why the nonprofit organization has maintained its reputation as the best jazz Summerfest in the Big Apple.
Last week was a smoker with the exceptional NEA Jazz Master pianist and composer Barry Harris, who encompasses the life of bebop music and the essence of all good music in the jazz spectrum. Tenor saxophonists Patience Higgins and Gene Gee, trumpeter Bruce Harris, drummer Leroy Williams and special guests tap dancer David Gilmore and Barry Harris vocal chorus at Marcus Garvey Park accompanied him.
The Marc Cary-Ben Williams Project took Minton's Playhouse to a higher ground that they haven't visited since Thelonious Monk and Charlie Parker were part of the historic jazz club's house band in the 1940s. Cary, a member of that Washington, D.C. Chuck Brown go-go booty-shakin' funk, joined with bassist Ben Williams and other DC cats for a go-go-Harlem shakedown. The large ensemble enlisted a non-quiet policy for the night that included dancing and lasted until after 11 p.m. The Marc Cary Harlem Sessions will convene every third Thursday at Jazzmobile's Residency @ Minton's.
On July 25, Jazzmobile Residency will feature Reggie Workman Presents!! The 2020 NEA Jazz Master bassist and composer choice of Next Generation Music Makers. They will include tenor saxophonist, Nicole Nicoludsh; trombonist Rashan Salaam; vocalist Rosdeli Marte Safa; alto sax Christian Cummings; flutist Redi Fernandez Acosta; trumpeter Edo Gur; bassist Zwelakhe-Duma F. Bell le Pere; pianist, Miki Yamanaka; and drummer Jerome Gillespie.
Reggie Workman is one of the premier bassists in jazz. His creativity bridges the jazz genre gap between mainstream jazz and avant-garde. He appeared on recordings for Abbey Lincoln, Lee Morgan, Max Roach, Archie Shepp and Wayne Shorter. On the avant-garde he worked with Marilyn Crispell, Butch Morris, David Murray, Sam Rivers and Cecil Taylor. Workman's ability to play various styles of music led to him becoming a mainstay for Blue Note Records (studio recording sessions) during the 1960s and early 1970s.
He continues to have a long-standing collaborative performing group with Trio 3 featuring saxophonist Oliver Lake and drummer Andrew Cyrille. He also is a professor at the New School's College of Performing Arts in New York City, where he has been teaching since 1987.
There are two sets at 7:30 p.m. and 9:30 p.m. (No cover). Minton's Playhouse is located at 206 West 118th Street, Harlem: happy hour from 5 p.m.-8 p.m. For more information and complete schedule visit the website jazzmobile.org.
On July 27 Jazzmobile@55 presents a special happy birthday Billy Taylor featuring Harlem's own pianist Danny Mixon performing at Harlem Cultural Archives in The Riverton (enter at the Security Booth on E. 135th between 5th & Madison Avenues), 4 p.m.-6 p.m.
Dr. Taylor, pianist, composer and educator, co-founded Jazzmobile in 1964 with philanthropist and arts administrator, Daphne Anstein. Dr. Taylor originally lived in the Riverton at 2265 Fifth Avenue, it is where he wrote his jazz standard "I Wish I Knew How It Would Feel To Be Free." Mixon noted, "It is a pleasure to pay tribute to the legendary Dr. Taylor, who has been inspirational mentor to me and so many others."