Jewelle Blackman's magnificent debut in 'Hadestown' is just Fate!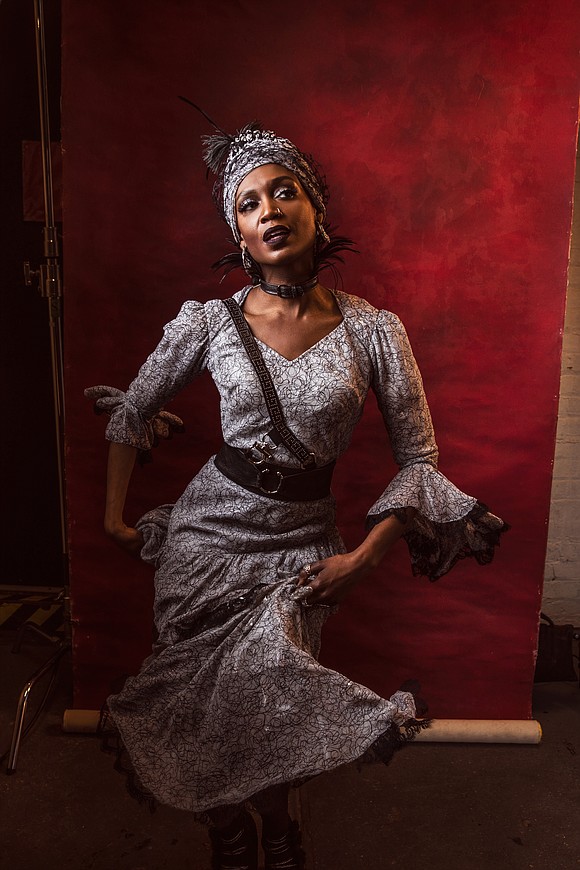 By LINDA ARMSTRONG
Special to the AmNews
"Hadestown," Broadway's best musical, playing at the Walter Kerr Theatre at 219 W. 48th Street, is one of the most stunning, unforgettable Broadway musicals you will ever see. Part of the reason is the phenomenal work of Anais Mitchell, the author of the musical who wrote the music, lyrics and book. It gives a special retelling of a Greek tale of two love stories, the story of Orpheus and Eurydice and the story of King Hades and his wife Persephone.
There are numerous performers and each gives their all. One of these performers, Jewelle Blackman, plays one of the three Fates who influences what happens to the human characters, and she definitely, vividly and brilliantly makes her presence and talent known. Blackman is also fortunate enough to have "Hadestown" be her Broadway debut. She recently spoke with the Amsterdam News about being part of this amazing musical.
AmNews: How do you feel about making your Broadway debut in "Hadestown"?
JB: "Hadestown" being my Broadway debut is beyond anything I could have imagined. To be making my debut in such an epic, masterful piece of art is a blessing. I love this show and everything it stands for and the people I get to create it with. It is the first show where I feel my talents are truly acknowledged and celebrated...there's nothing better than that.
AmNews: Your voice is so distinctive and captivating. Where did you study vocals?
JB: Thank you! So, to be completely honest I started out as a dancer when I was five years old, then I studied the violin from eight years old. I always loved to sing and would participate in school concerts and productions but it wasn't until my third year in the bachelor of music program at Queen's University in Kingston, Canada that I started any type of formal lessons. After graduating I continued taking lessons on and off from various teachers....however I don't think they or I truly realized the range and potential of my voice, as I would often be singing/learning songs for a mezzo sop or alto, but never
a contralto, which is what I am.
AmNews: What's the role of the Fates and how do you feel when you're on the stage performing?
JB: As the Fates I believe we work in tandem with Hermes, the narrator of the story. I believe at times we are the cause and at other times the effect of action or inaction by Orpheus and Eurydice. We are those voices in the back of your mind that we all struggle with, doubt, fear and the unknown. My Fate is the Fate of death, Atropos. The most cutthroat, the one who ends life and essentially the one with the final word. Performing this role is so powerful and resonant in so many ways because the story is something we can all relate to on such a visceral level. And onstage you can feel it from the audience night after night.