Soprano Anne Brown, Gershwin's 'Bess'
Herb Boyd | 7/25/2019, 2:15 p.m.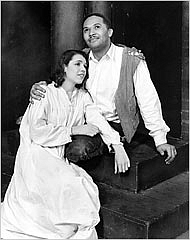 By HERB BOYD
Special to the AmNews
Whenever there's a revival of "Porgy and Bess," and that seems to be a perennial event, it's impossible not to think of the first time it opened on Broadway in 1935, featuring Todd Duncan and Anne Brown. There are so many stories, so much myth and legend about the opera (and even in the definition of the production, whether it was a jazz drama, musical comedy, operetta or somewhere between, there is debate) but most intriguing is how Anne ended up portraying Bess.
That story, in reality, begins Aug. 9, 1912, when Anne was born in Baltimore. Her father, Harry Brown, the grandson of a slave, was a doctor and her mother, Mary Allen Wiggins, was a housewife with four daughters to raise. At nine months, members of her family related, Anne had already demonstrated her musical genius by singing a perfect scale.
Because she was Black, Anne was not allowed to attend a Roman Catholic elementary school that her parents desired. But that did not deter her from becoming a singer, and that dream blossomed during her training at Morgan State College, which prepared her for entry at the Peabody Institute. But once again she was turned down because of her race.
On the advice and support of the wife of the publisher of The Baltimore Sun, Anne applied to the prestigious Juilliard School of Music in New York City and at 16 she was accepted, becoming the first African-American vocalist at the school. Under the tutelage of Lucia Dunham, she progressed rapidly, and when she turned 20 was awarded the school's Margaret McGill scholarship. A year earlier she had married, but it ended in divorce.
In 1933, as she prepared for her second year of graduate studies at Juilliard, she learned that George Gershwin was composing an opera about African-Americans in Charleston, S.C., mainly based on DuBose Heyward's novel about life in the city's Catfish Row. She wrote Gershwin a letter expressing an interest in performing in the opera. Gershwin, through his secretary, requested that she come and sing for him. The great composer was impressed after she sang several arias and the spiritual "A City Called Heaven."
As Gershwin completed the opera, he often invited Anne to sing various parts as they developed. Her renditions were so commanding that Gershwin not only expanded Bess's role, but also offered her the role in the preview performances. She recalled how their relationship evolved: "He would telephone and say, 'I've finished up to page 33 or so. Come down; I want you to sing it. When can you come down?' 'When I get out of school today,' I would say. I'd always start off singing 'Summertime.' I loved it so. Then I would sing whatever he had written since the last time I'd been there, whatever the roles might be—sometimes I even sang 'Sportin' Life,' sometimes we sang duets together. I knew that opera before I went onstage, not only the songs. I wound up playing about 500 performances in the original and then the 1942 revival. I can tell you what every instrument played. Finally, in our last days of rehearsals in New York before heading up to Boston for previews, George took me to lunch. 'Come on,' he said, 'I'm going to buy you an orange juice.' Then, when we were seated, he made this announcement. I remember his words exactly because they thrilled me so. 'I want you to know, Miss Brown,' he said, 'that henceforth and forever after, George Gershwin's opera will be known as 'Porgy and Bess.''"