Symphony Space presents A Day of John Coltrane
NADINE MATTHEWS | 6/6/2019, 4:34 p.m.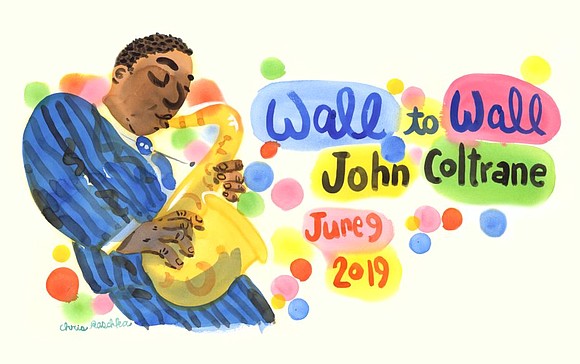 Ask even the uninitiated who the titans of jazz are and the name John Coltrane is likely one of the first mentioned. It thus makes perfect sense that one of New York City's premiere cultural destinations, Symphony Space, has decided to honor the music great as part of its highly anticipated annual Wall to Wall festival series.
The Wall to Wall series, in fact, is how Symphony Space got its start as a cultural institution in the first place. Explains Darren Critz, director of performing arts programs, "It was both the first event for Symphony Space, and it launched Symphony Space back when it was just a closed-off movie theater. Isaiah Sheffer and Allan Miller, the founders of Symphony Space, wanted to come in and do a marathon of Bach's music. They were just gonna throw open the doors and for 12 hours they were going to have performances of many different elements of Bach music and it was a very community oriented event."
This was back in 1978 and, since then, Wall to Wall has become an annual New York City cultural staple. The New York Times, Critz states, has termed Wall to Wall Symphony Space's "annual gift to the city of New York."
John Coltrane was chosen as the subject of this year's Wall To Wall event, Critz says, because "John Coltrane is sort of the perfect exploration for a Wall to Wall. In his early years, no one really knew what type of a performer he was going to be."
Indeed, Coltrane is known for being quite solidly mediocre when he started out, and was thrown out of both Miles Davis' and Dizzy Gillespie's bands. "Yet," states Critz, "he grew into this artist that is now legendary. He worked so hard he overcame a bad heroin addiction and his life was all about becoming the best artist that he could become. The evolution of his work from his early days playing bebop to this avant garde form of jazz, he was constantly moving artistically, never content with staying in one place."
Wall To Wall John Coltrane lasts all day June 9 and is free and open to the public. "It's a fully free event and a daylong exploration—this year it's eight hours—of one particular thing. Sometimes it's a genre like Broadway musicals or it's one particular artist. This year, it's John Coltrane."
The audience they are trying to reach is a broad one. Critz says, "They can come in as a fan or they can come in not knowing anything. The idea is that they get a really good cultural experience."
The format for the festival is very open and flexible. Wall To Wall John Coltrane begins at 3 o'clock in the afternoon and ends at 11. Attendees can show up and leave at whatever time they wish.
It is split into three distinct segments. The first, says Critz, lasts from 3 p.m. to 6 p.m. "There will be some early Coltrane, a multi-genre exploration of Coltrane and his world and discussion of his lost album which was a big thing in the media earlier this year." The first section will also feature Brooklyn-based music and multimedia duo Soul Science Lab. "They will be doing a longer set of Coltrane's music through the lens of many different genres rather than just straight jazz."