Andre De Shields wins FIRST Tony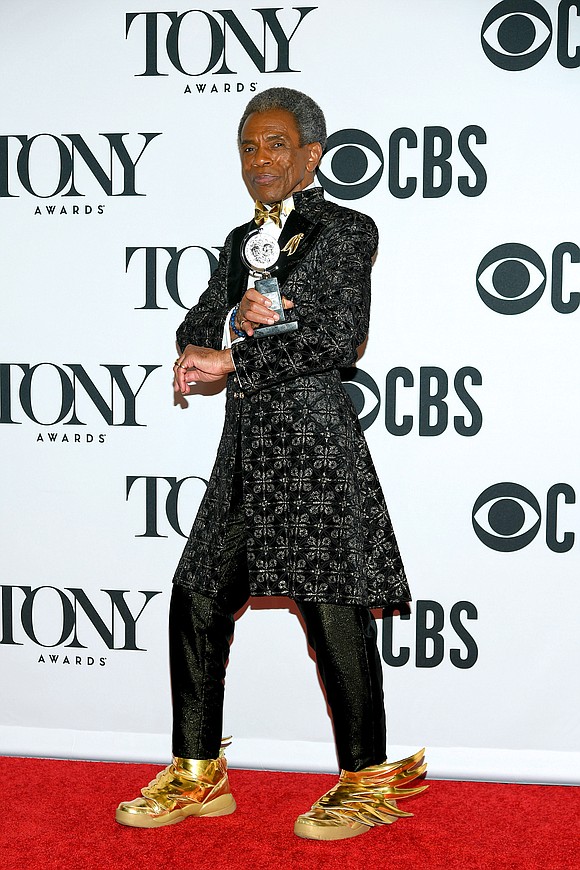 Michael McElroy, founder of Broadway Inspirational Voices, which for 25 years has had Broadway professionals coming together to sing gospel music and empower children through the arts, received a special Tony for Excellence In Theatre. McElroy happily shared, "When I started Broadway Inspirational Voices 25 years ago, it was really about finding somewhere to feed myself from this crisis that was going on in our community. Then from myself I reached out to 12 people and I said come let's sing gospel music and do a benefit for Broadway Cares, Equity Fights AIDS, and then that turned into 10 years of benefits and more members and that turned into us becoming a 501C3 and then reaching outside the community to mentor and create outreach programs at Ronald McDonald House and working with LGBT programs at Covenant House. It just grew bigger than I could have ever dreamed. And when you do the work you keep your head down and you do it because it feeds you. If feeds us as a community, it feeds us as a choir and then to have the moment, where all of a sudden the theater community is saying we see you, we recognize you, we want to celebrate you—I'm so appreciative. We're about possibilities, bringing hope to young people and letting them know the arts are there for them. We're about inspiring them to go for it, and then hopefully from that experience as we know arts have done for us—transform your life…If we can do that child by child then the possibilities are endless in how we can change the world in which we are living."
Jason Michael Webb had also received a special Tony honor for the superb, A Capella vocal arrangement he created for "Choir Boy."
Tony Award winner Brian Stokes Mitchell introduced Tony Award winner Cynthia Erivo, who gave a lovely rendition of "Can You Feel The Love Tonight" as photos of those who have passed away showed on the screen during the In Memoriam.
African-Americans featured during the evening included Tony Award winner Billy Porter, Samuel L. Jackson and wife Latanya Richardson Jackson, Audra McDonald, and playwright Tarell Alvin McCraney ("Choir Boy").
What you need to do now is buy tickets to "Hadestown." See what Andre is doing on that stage and be amazed by this phenomenal production that is taking Broadway musicals to the next level. Also, realize that there are many Broadway shows that employ African-Americans who are doing fantastic work, look at the shows' website and you can see photos of the cast, then go support our people that are making things happen on Broadway!