Jessie T. Usher plays John Shaft Jr. in 'Shaft'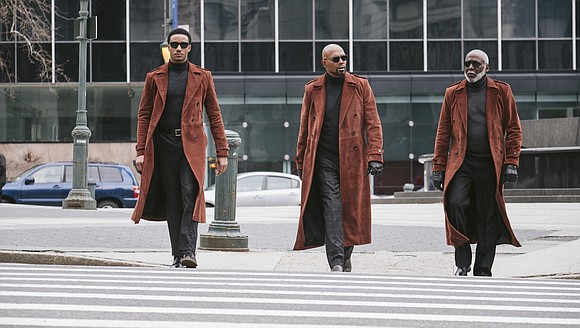 Jessie T. Usher plays J.J., aka John Shaft Jr., a cybersecurity expert with a degree from MIT. To uncover the truth behind his best friend's untimely death, he needs an education only his dad—Shaft (Samuel L. Jackson) can provide. Now a hard-nosed detective with his offices and his home located inside the historic New York Amsterdam News building, the always locked-and-loaded Shaft agrees to help his progeny navigate Harlem's heroin-infested underbelly.
And while J.J.'s own FBI analyst's badge may clash with his dad's way of getting the truth, there's no denying family. Besides, Shaft's got an agenda of his own, and a score to settle that's professional and personal.
The film was produced by John Davis ("Game Night," "Joy") under his Davis Entertainment banner. Kenya Barris ("Girls Trip," TV's "Black-ish") and Alex Barnow (TV's "The Goldbergs") wrote the screenplay, based upon the character John Shaft from the novel by Ernest Tidyman.
The behind-the-scenes creative team included director of photography Larry Blanford ("Ride Along," "Tag"), production designer Wynn Thomas ("Hidden Figures"), editor Peter S. Elliot ("Ride Along 2"), and costume designer Olivia Miles ("Ride Along 2"). The music is by Christopher Lennertz ("Nobody's Fool," "Pitch Perfect 3"). Dave Jordan and Trygge Toven served as music supervisors.
Here is what Jessie T. Usher had to share about working on the new film "Shaft."
New York Amsterdam News: The first time we spoke you shared that you were inspired to learn a lot behind the camera; I suggested shadowing. Did you do any of that with director Tim Story on "Shaft"?
Jessie T. Usher: You are absolutely right, I did say that (laughing) and I am happy to say that I am absolutely able to do those things, so yes, I did. It was amazing to work with someone like Tim Story so [shadowing], it helps. Tim is a very different director than anyone that I've worked with before.
AMN: Meaning?
JTU: Meaning his ability to micromanage. I didn't know it was possible to micromanage all the things that he does in such an effortless way. I've never seen a director come in that can deal with actors the way that he does but also create this world around him that seems like it was already there. He knows his movie through and through. He's a great listener. Tim creates a world so that we start shooting and it feels like you're in a Shaft film. Everything felt right. He has a dialogue that actors understand. He's not like another director but don't tell him that I said that.
AMN: Too late! Tim used the New York Amsterdam News' building and its headline in the movie, so that was fun and we love him even more now.
JTU: Right. I caught that. It makes sense that Shaft who pretty much owns Harlem would have an office inside the historic Amsterdam News offices.
AMN: The New York Amsterdam News was started in 1909 with a $10 investment, six pieces of paper and a pencil. We are still standing—we are "badass" like who?