Notorious B.I.G. street co-naming in Brooklyn
NAYABA ARINDE Amsterdam News Editor and AUTODIDACT 17 Special to the AmNews and CHINEDU ONYEMAOBI Special to the AmNews | 6/13/2019, 11:05 a.m.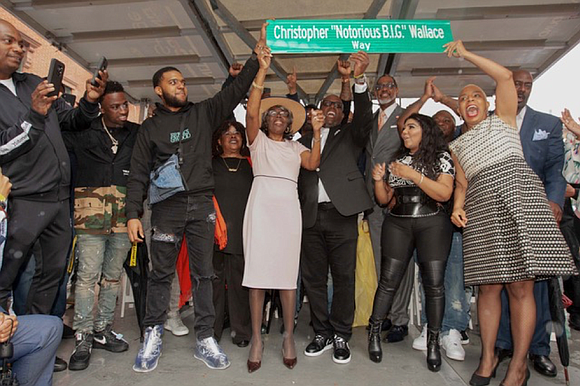 A torrential monsoon-like rain could not stop devoted fans of Biggie Smalls standing on a Bed Stuy block for three hours or so to witness the long-awaited street sign unveiling honoring the mega hip-hop icon.
"This street is going to be a love street. People are going to come here and they're going to know that a young man, my son, was living here," commented Biggie's mother, Voletta Wallace.
Go anywhere in the world, shout out, "Where's Brooklyn at?" and you are going to get an enthusiastic person yelling back. Anywhere. That is what the energy was about on Monday, June 10, 2019.
Despite the relentless downpour, family members, friends and hundreds of fans of legendary hip-hop MC Biggie Smalls, a.k.a. The Notorious B.I.G., crammed the corner of Fulton Street and St. James Place in Brooklyn's Bed Stuy/Clinton Hills section this past Monday to witness the unveiling ceremony of the Christopher "Notorious B.I.G." Wallace Way street co-named in his honor. It is a few buildings where his "one room shack" was located at 226 St. James Place and on one of the very same corners where he came of age and sharpened his lyrical gifts as a youth, prior to achieving international fame and recognition as one of the greatest MCs of all times.
The Christopher Wallace Memorial Foundation, in partnership with the office of Majority Leader Laurie Cumbo, hosted the official event celebrating the street co-naming of Christopher "Notorious B.I.G." Wallace Way.
Notorious B.I.G.'s mother Voletta Wallace, his children T'Yanna Wallace and Christopher Wallace Jr., Lil' Kim, Jadakiss, Lil' Cease, DJ Enuff, Damion "DRoc" Butler, Diggy Simmons, Lisa Evers, Ralph McDaniels, DJ Mister Cee, Mark Pitts, Wayne Barrow, Brooklyn Borough President Eric L. Adams, NYC Council Majority Leader Laurie A. Cumbo, NYC Public Advocate Jumaane Williams, NYC Council Member of the 36th District Robert E. Cornegy Jr., and NYC Council Member of the 41st District Alicka Ampry-Samuel were in attendance.
Wayne Barrow, B.I.G.'s manager and co-chairman of The Christopher Wallace Memorial Foundation, opened the Notorious B.I.G. street naming.
"We appreciate the overwhelming show of love and support. I know y'all standing in the rain but that's just Biggie crying on us, happy that we're standing on this street recognizing him," said Barrow.
He introduced Cumbo who spoke of the long fight to get the street renaming accomplished and the necessity for the preservation of Brooklyn's rich history.
As the burgeoning gentrification was blatantly apparent, with a large number of white folk and their friends and families coming out of their St. James Place homes to observe the street renaming, Cumbo, member of the Committee on Public Housing, told the amassed crowd with umbrellas hoisted high, "We shouldn't let people come into our towns and erase our history…Today is just a reassurance that won't happen to our Brooklyn."
Although on "Juicy" he said of his home, "Thinkin' back on my one-room shack," in 2013 the ethnic cleansing of the Black neighborhood had his old three bedroom at 226 St. James St. on the market for a whopping $725,000.