Notorious B.I.G. street co-naming in Brooklyn
NAYABA ARINDE Amsterdam News Editor and AUTODIDACT 17 Special to the AmNews and CHINEDU ONYEMAOBI Special to the AmNews | 6/13/2019, 11:05 a.m.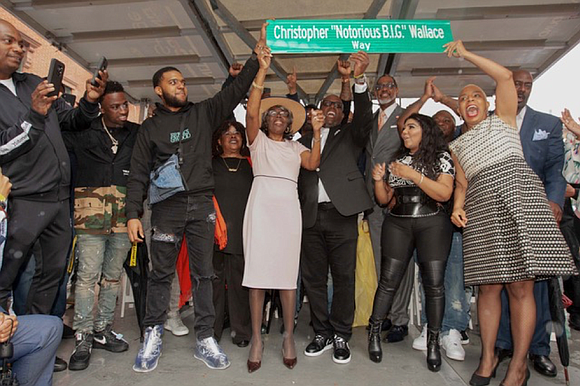 "When new people come to our community, don't get it twisted and don't forget, we made this borough what it is today. We created this borough, and Biggie Smalls created the soundtrack of inspiration that gave us the growth and ability to create success in Brooklyn," said Cumbo.
Notorious BIG was a generational hip-hop talent during his time from 1992-1997. He, along with his group Junior M.A.F.I.A, brought the world tunes such as "Players Anthem" and "Get Money," both which rose onto top 25 music charts across the country. The group also helped launch the career of rapper and fan favorite Lil' Kim, a Brooklyn native.
Electeds such as Cumbo and Cornegy both gave personal anecdotes and praised the event and its incredible cultural significance for a hip-hop community often denigrated, but also mentioned the renewed interest in issues such as the Central Park Five case, and the depiction and the reality of the Black community.
"We cannot continue to let the bullets cause the highways of death and remove the Biggie Smalls of our lives in our community," said Brooklyn Borough President Eric Adams, as he slammed the violence that took out icons such as Dr. Martin Luther King Jr. and Malcolm X.
"Everyone has a right to live out their dreams without the fear of being gunned down," Adams said. "We need to protect all and future Biggies so stories like this won't happen again."
As he lauded the immense power and significance of the street renaming of the "giant" Biggie, Adams proclaimed of his beloved borough, "There are two types of Americans—those who live in Brooklyn, and those who wish they could!"
New York City Public Advocate Jumaane Williams said he was buggin' out with excitement. Like a hype man onstage, he told the real live crowd, "We have a right to look up to our hip-hop heroes. We're celebrating Biggie, we're celebrating hip-hop and we're celebrating ourselves."
Cornegy spoke about growing up in the same building as Notorious B.I.G. during the early stages of his career and the close bond of the neighborhood.
Christopher Wallace Jr. shared heartfelt words about his father and expressed gratitude for the amount of love present at the event. Lil' Kim, Lil' Cease, Droc and DJ Mister Cee also shared remarks on the incredible impact B.I.G. made on hip-hop culture and their favorite memories.
"This block, it belongs to Biggie," said Lil' Kim. "He always had a vision, and I feel like today was part of his vision. I've always known this day was going to come; I used to dream about a street being named after Biggie, because it was only right. Everyone from Brooklyn represents him with so much love and passion."
Notorious B.I.G.'s mother Voletta made final remarks, captivating the crowd with her emotion. She thanked all of the fans for their unwavering support and expressed appreciation for how loved her son was. She closed with a touching sentiment about always choosing love in life.
"This street is going to be a love street, people are going to come here and are going to know that a young man, my son was here…I want to thank you for standing out there in the rain to see a sign unveiled. That is love."