Black art takes Toni Morrison documentary 'The Pieces I Am' to new levels of aesthetic pleasure
NADINE MATTHEWS | 6/20/2019, 11:20 a.m.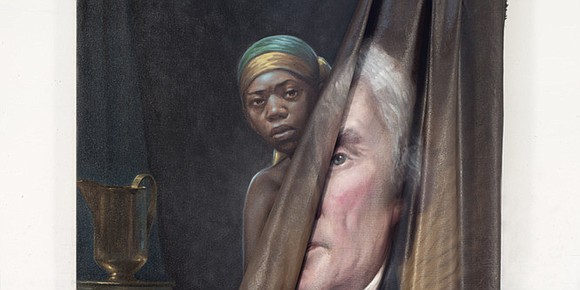 Titus Kaphar's "Beyond The Myth of Benevolence," Kara Walker's "African/American," and Aaron Douglas' "Into Bondage" move slowly across the screen during the sequence of Timothy Greenfield-Sanders' documentary "Toni Morrison: The Pieces I Am," where the impact of America's history of Black enslavement on the author's work is discussed. Charles White's "I Have A Dream" appears during the discussion of Morrison's novel "Beloved" and its treatment of Black motherhood. They are powerful, multilayered symbols that simultaneously illustrate what is being discussed as they force the viewer to feel the horrors of the so-called "peculiar institution."
Greenfield-Sanders, a lifelong portrait photographer turned filmmaker who began photographing Morrison in 1981, deftly makes Black art a focal point in this culturally rich, intimate, warm, smart, funny film about the literary great. Not surprisingly, it was an artist who spearheaded the incorporation of art into the film. He explains, "Early on I showed a few minutes of the film to Rashid Johnson who was visiting New York for portraits and he loved what we were doing. He started giving us names of other artists. He said, 'You have to look at Charles White, you have to look at this person or that person, Romare Bearden,' etc. I said 'I know those artists.' So we started writing down names."
Having a wish list is great, but getting people to agree to have their work in a film, may or may not be easy. Greenfield-Sanders' interaction with artist Mickalene Thomas, who created the collage that is in the opening of the film, typifies the reactions he received from most artists and/or their estates that he approached. He says, "I called her up out of the blue and said 'I'm directing a film about Toni Morrison.' She said, 'You can stop right there. I'm in!'"
The haunting "The Modern Medea" by Thomas Satterwhite Noble being the exception, the numerous paintings used in the film were by African-American artists. This was intentional, says Greenfield-Sanders. "I wanted to bring more art by African-Americans into the film itself." The Modern Medea, of course, depicts the real-life events that inspired Morrison's "Beloved."
In addition to the artists mentioned above, works by Romare Bearden, Elizabeth Catlett, Kerry James Marshall, David Hammons, Faith Ringgold, Lorna Simpson and many others show up in the film. There is watercolor, woodcut, collage, ink, pencil, charcoal, acrylic, even a Jack Whitten mosaic. The works are used to elicit emotion as an integral aspect of the viewer experience. Greenfield-Sanders was clearly thinking as much about how to bring the viewer into the experience, making it interactive, as he was about the information he was delivering.
As often as the art might illustrate something being discussed, it is used to set a mood or vibe. "I think we were looking for art that would say something or make you feel a certain way and not to be totally illustrative if that's a word. It wasn't like we were putting a painting in there because it was illustrating something someone said. It needed to do more than that; it needed to also make you feel something." Greenfield-Sanders succeeded in doing just that.