Blue for Sudan: Sudan protest supporters speak out on the Sudan crisis
FIKISWA TSABEDZE and CHINEDU ONYEMAOBI | 6/20/2019, 11:09 a.m.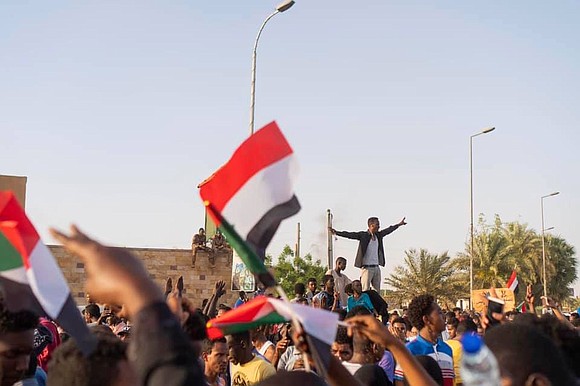 Supporters of the protestors in Kenya held a solidarity vigil June 13. Sources say police threw tear gas at the supporters of the civil movement.
As the universal push for human rights continues to be a plaguing issue for some countries, Sudan finds itself in yet another humanitarian crisis. After years of civil war and a failed government by a dictator, Sudanese people are in a fight to take back the land that belongs to them. A civilian revolution is happening right now in the country and the global stage is watching what happens next.
After Omar al Bashir was ousted from his presidential throne after having a term of nearly 30 years, members of his administration still remained in government. His nearly three decade term was one of the most inhumane administrations in modern history. He became the leader of Sudan after a military coup ravished the country in 1989. Since then, he has become well known for his involvement in the Darfur genocide. Considered a 21st century genocide, it is a conflict that has displaced nearly 3 million people and killed some 300,000.
"What's been happening in Sudan is far from a humanitarian crisis. It's a global crisis," said Daughtry. Daughtry has done humanitarian and activist work in Sudan during its Darfur conflict. Daughtry along with others were some of the people who helped at displacement camps for families in Chad. Not only does he understand the conflict, but he's seen the reality of what a civil war can do in a country.
"There were major crimes against humanity committed by al-Bashir and his regime," said Daughtry. "They displaced millions of women and children. The effects of what happened years ago can still be seen to this day."
Currently, the Sudanese military has vowed to rule over the country for the next two years until the next presidential election. Sudanese citizens feel differently and do not have trust in the military people to lead them for the next two years. With civilian uprisings and protests happening everyday, it'll be interesting to see what will be of Sudan in the upcoming months.
Timeline of Events
Here's what activists say people need to know about the current situation in Sudan:
Thirty years of violent oppression, conflict and economic hardship under the al Bashir regime have left the country in total ruin.
December 2018
The Sudanese people rallied to put an end to the absolute power.
A peaceful revolution began with anti-government demonstration across the country.
The peaceful protests were met with violent crackdowns and dozens of civilians were killed.
February 2019
Pres. al Bashir declared a state of emergency and banned all unauthorized gatherings. He authorized security forces to use all means necessary to put a stop to the peaceful protests.
April 2019
The people of Sudan staged the largest sit-in in Sudanese history outside the Armed Forces headquarters.
During the government attempts to clear the sit-ins, there were multiple injuries and dozens killed.
The Sudanese military declare al Bashir and other high ranking government officials in criminal custody.
Transitional Military Council is formed, led by General Awad Ibn Ouf, and announces plans for the military to rule for a two-year transitional period until elections are held. This was against the civilians' demands for civilian rule.
General Abdelfattah Burhan replaced Ibn Ouf after public pressure forced him to step down.
Coalition of Freedom and Change, and TMC begin negotiations. Delays and tactic stalling by TMC, in addition to state violence against peaceful protestors, hindered negotiation process.
May 2019
Two-day nationwide strike begins, designed to pressure the TMC into handing over power to civilian-led authority.
June 2019
Rapid Support Forces, also known as Janjaweed, attacked civilians in Khartoum using guns, physical and sexual assault, and dispersed the sit-in.
The internet is shut down causing a media blackout.
More than 100 civilians are killed.
Over 650 casualties.
At least 40 bodies found dumped in the nile river.
Missing people.
The AU has suspended Sudan's membership, awaiting the full shift of power to civilian authority.
The Sudanese Professionals Association called for a nationwide act of civil disobedience from June 9.